39-VC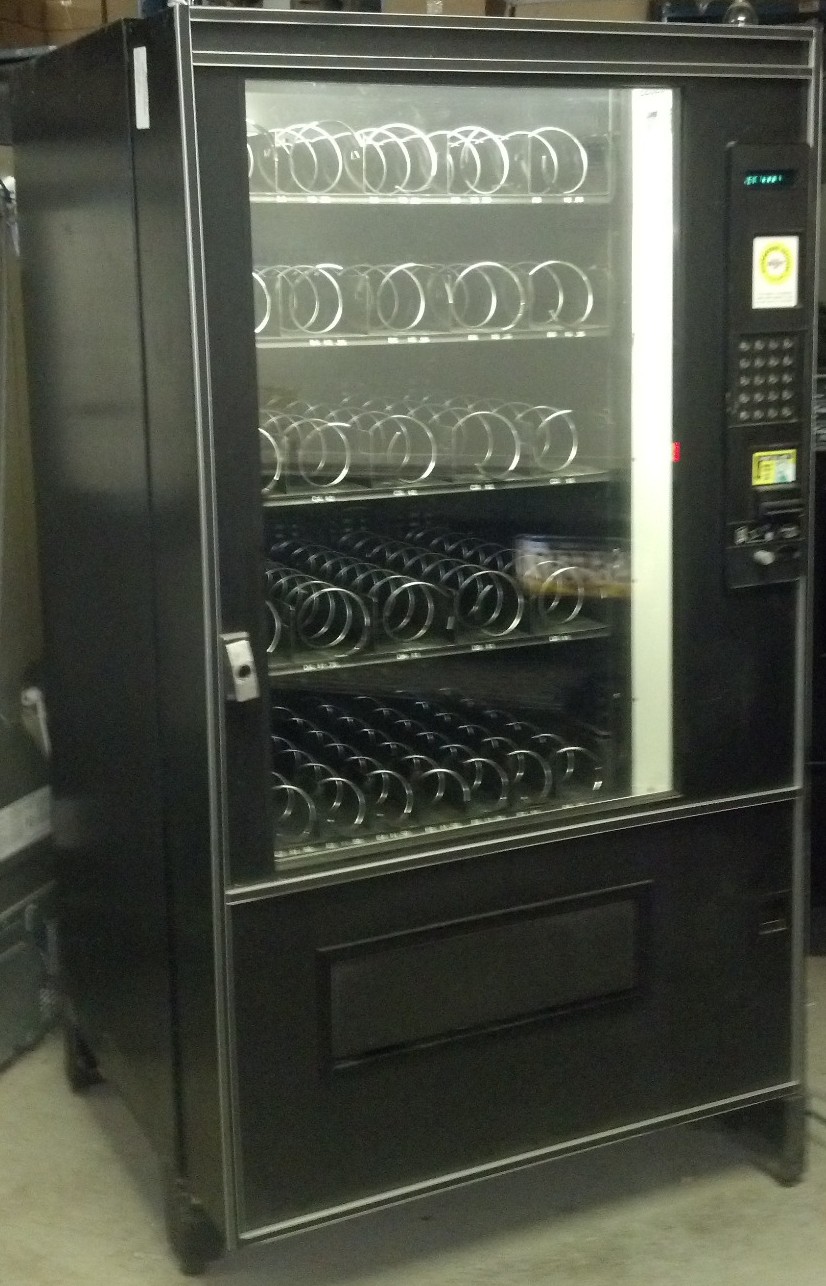 Type:
Glass Front Cold Food
Manufacturer
: Automated Merchandising Systems, Inc.
(AMS)
Model:
39-VC
Serial No.:
#0040-1229B5
Selections:
28
1 beverage trays @ 8 selections each
4 snack trays @ 5 selections each
(other configurations available at
additional cost)
Bill Acceptor:
Coinco BP4SXI
Coin Changer:
Coinco Quattum Pro
Condition:
Used/Reconditioned (Ready to Operate)
Price:
$2,795 each


NOTES:
This is a reconditioned AMS 39-VCF (VC= Visi-Combo-Food) machines. These combination machines vend cold beverages, food, and snack items. Foods and snacks are chilled adding to their freshness and extending their shelf life. Beverages are chilled to be cold and refreshing and are easily loaded into spirals, which accommodate a number of different sized beverage containers. The machines are equipped with the AMS "Sensit" guaranteed delivery system. Vended items are detected by an infrared sensor system as they drop into the delivery bin. Customers are able to make another selection or receive a refund in the event their selection does not drop. AMS machines are the best combination vendors on the market today. They are user and operator friendly, reliable and replacement parts are readily available. Virtually all other major manufacturers of vending machines have attempted emulate the AMS designs and patents and failed to come close terms of reliability and cost.

Configuration
* Top Tray - 5 food/snack selections
* 2nd Tray - 5 food/snack selections
* 3rd Tray - 5 food/snack selections
* 4th & 5th - 5 food/snack selections
* Bottom Tray - 8 beverage selections for 12 to 20 oz. drinks. Capacity: 6 drinks each

Automated Merchandising Systems, Inc. (AMS), the first manufacturer to offer a polyurethane foam insulated cabinet and a guaranteed product delivery system, the patented "Sensit", is located in Kearneysville, WV.
Warranty: A 30 day part warranty is included (All replacement parts to be supplied/obtained from seller, Automated Services LLC, 145 Pepes Farm Rd Milford, CT 06460. Labor is the responsibility of the buyer.)
FEATURES:

* SENSIT GUARANTEED PRODUCT DELIVERY hang-ups are no longer a problem
* COMBINATION SNACK & COLD BEVERAGE MACHINE fully foamed in place polyurethane foam insulated cabinet and heated triple-pain glass cools both beverages and snacks like no other machine on the market.
* AUTOMATIC SHUTDOWN lets you program the machine to shut down during designated time periods.
* DEBIT CARD ACCEPTANCE Compatible
* SUPPORTS MDB coin changers & bill acceptor systems
* GUM AND MINT DISPENSING SYSTEM makes it more convenient for the operator to stock, service and inventory product..
MODEL SPECIFICATIONS:
* Height: 72"
* Width: 39"
* Depth: 35"
* Shelves: 5 + gum and mint module
* Capacity: Approximately 180 snack/ food items and 48 beverages .
* Weight: 686 lbs.
* Operation - electric, CSA and UL Listed
* Electrical - 115 volts; 60Hz., 3 amperes

CALL TOLL-FREE
(800) 727-8363 Ext. 19

Automated Services, LLC. 145 Pepe's Farm Road, Milford, CT 06460. All rights reserved. 2011