113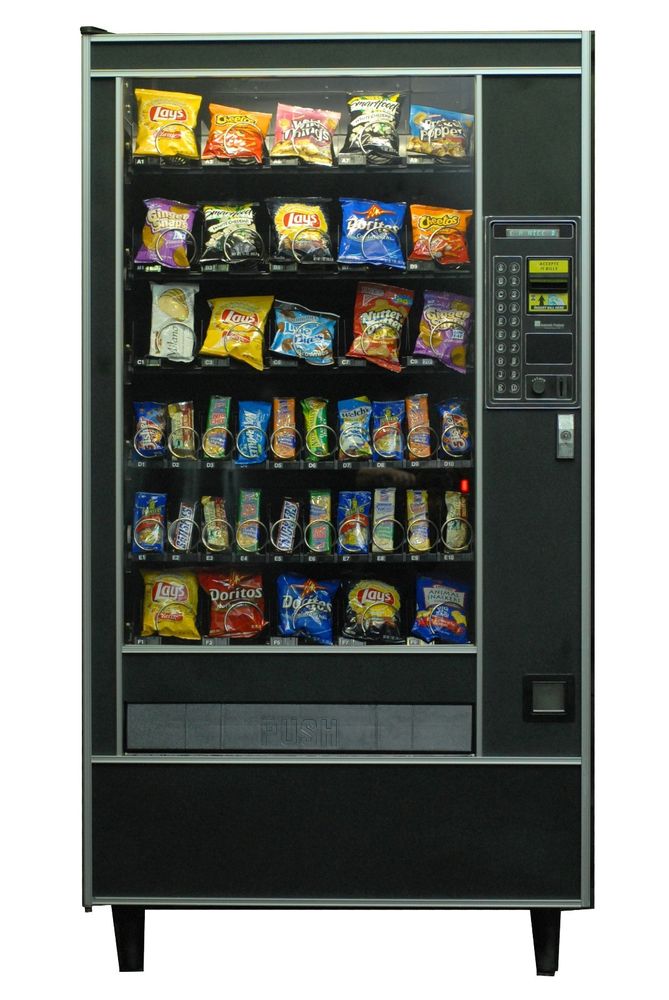 Type:
Snack Glassfront
Manufacturer
: Automated Products (AP) (API)
Model:
113
Selections: 35 or 40 plus 2 gum and mint




35= 5 snack trays @ 5 selections each
1 candy trays @ 10 selections each
5 gum and mint

40= 4 snack trays @ 5 selections each
2 candy trays @ 10 selections each
5 gum and mint
Bill Acceptor:
Mars MEI VN2501
Coin Changer:
Mars MEI TRC6000
Condition:
Reconditioned and Ready to Operate
Price:
$1,195 -with Single Spiral Snack Trays
Dual Spiral Snack Tray Option

$

150.00 per tray (5 selections per tray)

NOTES:

The AP 113 Snackshops followed the tradition of their predecessors and were built of the best materials and components available, well designed and quality crafted for function and durability, with one goal in mind: to be the very best glass front snack machine. The most significant change in this model from API was the dual spiral option. Although API had mastered the positive vend out of the single spiral system, other manufacturers had not and as those manufacturers switched to dual spiral snack selections API also offered dual spirals as an option in the 113 models.

Single spirals vs. dual spirals: It is about less product hang-ups, instances in which the spiral rotates and the customer's selection fails to drop into the delivery bin. API's single spiral design simply stated is the best in business with less hang-ups than any other single spiral systems. When loaded correctly, a single spiral API machine performs as well as any machine on the market. Dual spirals, however, are more forgiving and tend to perform at a higher level when miss loaded. This makes the dual spiral system slightly more adaptable to new products, or new product packing operators may wish to try. In some instances, such as large cookies, single spirals actually perform better than dual spirals. Many vending operators choose to operate this API model with a mix of single and dual spiral snack trays.

We reface these machines with high-grade commercial vinyl. During this process, all vertical and horizontal trims are removed and replaced, as needed. In addition, each face panel is removed and has new vinyl applied to it. The end result is a new look that will stand the test of time with no exposed edges or seams for customers to pick at or peel. Mechanically, you can expect the model you choose to be in 100% working order.

Automatic Products Inter. (API) (AP) is now a Crane National Vendors/Crane Merchandising Systems (CMS) brand built in Williston, SC.

Warranty: A 30 day part warranty is included (All replacement parts to be supplied/obtained from seller, Automated Services LLC, 145 Pepe's Farm Rd Milford, CT 06460. Labor is the responsibility of the buyer.)
FEATURES:

*CONVERTIBLE SHELVING & DUAL SNACK SPIRAL OPTION
* PROGRAMMABLE SCROLLING DISPLAY
*AUTOMATIC SHUTDOWN lets you program the machine to shut down during designated time periods.
* DEBIT CARD ACCEPTANCE Compatible makes purchasing easier for card-holding customers.
* SUPPORTS BOTH 24V & 115Volt coin changer and bill acceptor systems
* GUM AND MINT DISPENSING SYSTEM makes it more convenient for the operator to stock, service and inventory product.
MODEL SPECIFICATIONS:
* Height: 72"
* Width: 38 7/8"
* Depth: 35"
* Shelves: Six + gum and mint module
* Capacity: 310 to 1,261 items, including gum and mint dispenser
* Weight: 675 lbs.
* Operation - electric, CSA and UL Listed
* Electrical - 115 volts; 60Hz., 3 amperes

CALL TOLL-FREE
(800) 727-8363 Ext. 19

Automated Services, LLC. 145 Pepe's Farm Road, Milford, CT 06460. All rights reserved. 2016