748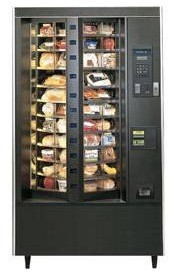 Type: Cold Food

Manufacturer
: Automated Products International (API) (AP)
Model:
748
Serial #: 74804260023
Selections: 11 Shelves/Levels (adjusting from 7-14 compartments each)

Bill Acceptor:
Mars-Mei VN2502
Coin Changer:
Mars-Mei VN4510 (high capacity 4 tube)
Condition:
Very close to New
Price:
$3,995
Notes: Currently, new API and Crane/National cold food machines run $7,800to $8,200 + freight & tax (depending on coin changer + bill acceptor options). Also, the new model has less to offer: two (2) less shelves / levels and each shelf is four (4) inches smaller in diameter (that is two (2) less shelves for the customer to shop from and less capacity for you to merchandise and sell product).

The face, and all that pertains to the face on this machine, is indistinguishable from new. The cabinet is free of dings and dents and compares to that of new (as brand new is often flawed in some small way). All aspects of the interior of this API 748, both mechanical and cosmetic, perform and look as new.

Warranty: A 30 day part warranty is included (All replacement parts to be supplied/obtained from seller, Automated Services LLC, 145 Pepes Farm Rd Milford, CT 06460. Labor is the responsibility of the buyer.)
Specifications:
Height: 72"
Width: 41"
Depth: 35 5/8"
Shelves:11 trays which hold 7 or 14 items.
Capacity: 154 items
Weight: 840 lbs.
Operation - Electric, NAMA, UL and UL-C Listed
Electrical - 120 volts; 60Hz; 12 amperes.
Features:
Bi-directional and complete turret rotation for quick and easy shopping.
Programmable automatic turret rotation maximizes consumer interest.
One price per tray for easy shopping and loading.
High-efficiency, self-contained refrigeration system.
Front refrigeration accessibility for convenient servicing.
Electronic health control.
Heated glass and blower prevent condensation, ensuring product visibility.

CALL TOLL-FREE
(800) 727-8363 Ext. 19

Automated Services, LLC. 145 Pepe's Farm Road, Milford, CT 06460. All rights reserved. 2011