550
Type: Cold Food

Manufacturer: Rowe International, Inc.

Model:
550 Merchandiser
Serial: 01770
Selections: 16 to 96


16 Shelves


Height - 5"; Width - 24"; Depth - 7"


Each shelf can set up as one

compartment/selection @ 5" high,


24" wide, and 7" deep or may be divide

into any combination of compartments/

selections in 4" wide increments, creating

up to 6 compartments/selections per shelf.

Bill Acceptor:
Rowe CBA2
Coin Changer:
Mars MC5000
Condition:
Location Ready
Price:
$2,595

NOTES:
What makes the Rowe 550 Merchandiser unique is compartment sizing, as you can see above. You can chose between 4", 8", 12", 16" and 24" wide compartments all 7" deep and 5" high to accommodate a wide variety of packaging/foods .The shelves rotate on the same basic principles as a Ferris wheel, and each selection makes a great presentation as customers shop the selections.

Rowe called this machine a Full View Vendor and no other machine displays products as attractively. Rowe's designs for cold food machines set today's industry standards. The current models being produced by Crane/National Crane Merchandising Systems (CMS) and API are all based on Rowe designs and platforms.



Rowe International, Inc. is based Grand Rapids, MI. Rowe, well known for their advanced designs in coin operated vending machines, is now a world leader in the design and manufacturing of Rowe jukeboxes and Rowe bill changer machines.
Warranty:
A 30 day part warranty is included (All replacement parts to be supplied/obtained from seller, Automated Services LLC, 145 Pepes Farm Rd Milford, CT 06460. Labor is the responsibility of the buyer.)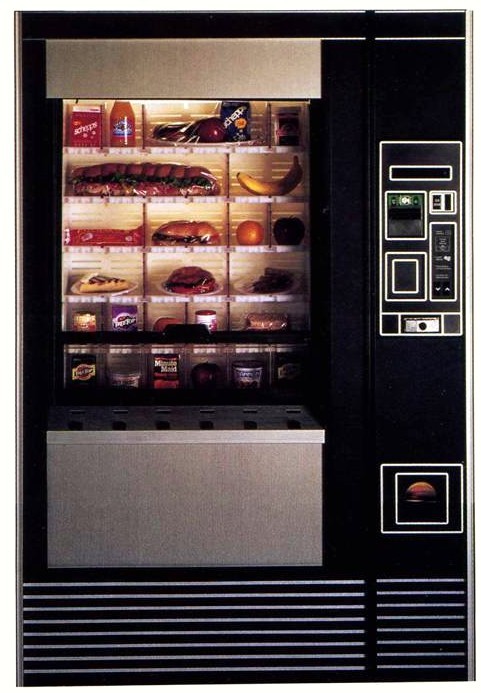 FEATURES:

* Each shelf can be sub-divided to provide from one

to six compartments.

* Slide-out interface module and Rowe

Universal Control Board.

* High-efficiency, self-contained refrigeration system

with up-front accessibility for convenient servicing.

* Multi-pricing ranging from $.05 to $99.95.
*
This unit fits through a 30 inch door.
*
Product is attractively displayed behind insulated

glass

*
Electronic temperature and health control

*
Easy clean shelving

*
Total cash accountability

*
Self – diagnostic, user-friendly EasyKey menu

system

*
Message center with 20 character vacuum

fluorescent display --- up to 250 characters

available in programmable, scrolling point of sale

message


MODEL SPECIFICATIONS:

* Height: 72"

* Width: 44"

* Depth: 30"

* Shelves: 16 shelves.

* Capacity: 16 to 96 items.

* Weight: 800 lbs.

* Options: UBA, Debit card

* Operation - electric, CSA and UL Listed

* Electrical - 120 volts; 60Hz; 15 amperes.






Automated Services, LLC. 145 Pepe's Farm Road, Milford, CT 06460. All rights reserved. 2011