AMS 39-VCB Visi Combo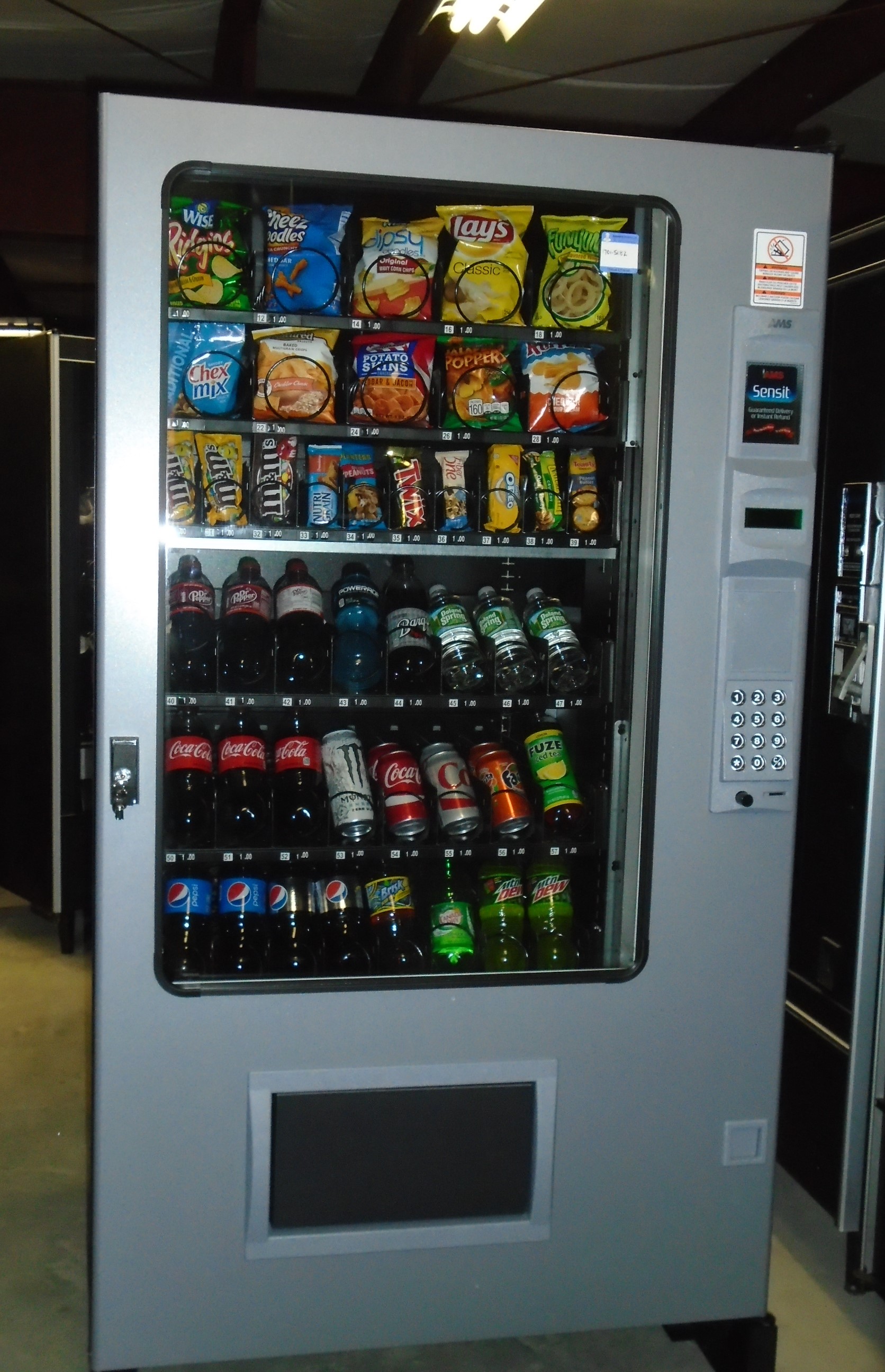 Type: Cold Drink, Snack,Combo
Manufacturer: Automatic Merchandising Systems (AMS)

Model: 39-VCB Sensit (Visi Combo)

Selections: 44

1 Snack Tray @ 5 selections each,

all 10 count spirals/coils

1 Snack Tray @ 5 selections,

all 12 count spirals/coils

1 Candy Tray @ 10 selections each,

all 18 count spirals/coils

3 Beverage Trays @ 8 selections each, all with 6 count spirals/coils, able to vend 6 12 oz cans or small juice type bottles from each selection or 5 of the taller

20 oz. bottles by Coke, Pepsi, etc.

Total Capacity:

As configured, approx. 434, 290 snack/candy items and 144 cold drinks/ beverages

Bill Acceptor: MEI VN2712 ($1& $5) mdb

Coin Changer:
MEI 4 tube
Condition:
Brand New, In Stock
NOTES:

This is a BRAND NEW 2016 AMS Visi Combo. The Visi Combo vends a combination of snacks and cold beverages, potato chips, pretzels, candy, etc. along with cold water, soda, juice, etc. It features a lighted key pad and is ADA compliant. The Visi Combo is built in the AMS plant located in Kearnsville,WV with state-of-the art materials,as well as an economy of construction.
AMS Warranty: Warranty applies to the original purchaser only (most likely a distributor). Most distributors offer the factory warranty, BUT ARE NOT UNDER ANY OBLIGATION TO DO SO. The factory Warranty covers the following; 3-year warranty for control board and refrigeration ,1-year warranty all other parts starting on the machines product date. Labor is not included. Warranty exceptions: coin & bill acceptors, fluorescent bulbs, glass, and paint finish.


Automated Services LLC Warranty: We will back the factory warranty as outlined above and in addition will warranty the bill & coin acceptors for 90 days from date of purchase on a exchange basis. All replacement parts to be supplied/obtained from seller, Automated Services LLC, 145 Pepe's Farm Rd Milford, CT 06460. Labor shipping costs are the responsibility of the buyer.) The buyer will also be responsible to return defective parts to seller Automated Services LLC.



FEATURES:
* Sensit patented guaranteed delivery system
* State of the art electronics

* 3-year warranty for electronics and refrigeration

* 1-year warranty all other parts
* Warranty exceptions: fluorescent bulbs, glass, and paint finish
* Motor coupling and home positioning
* ValueVend product grouping for lunchtime specials
* Polyurethane foam
* Most parts are interchangeable with most other AMS vendors

MODEL SPECIFICATIONS:
* Height: 72"
* Width: 39"
* Depth: 35"
*
Shelves: 6
* Weight: 692 lbs. approx.
* Capacity: As configured items 334


(238 Snack/Candy & 144 Beverage/Drinks)
* Operation - Electric, CSA and UL Listed
* Electrical - 120 VAC, 60Hz., 10.8 amps
CALL TOLL-FREE
(800) 727-8363 Ext. 19
Automated Services, LLC. 145 Pepe's Farm Road, Milford, CT 06460. All rights reserved. 2017