677 SEATTLE'S BEST HOT DRINK CENTER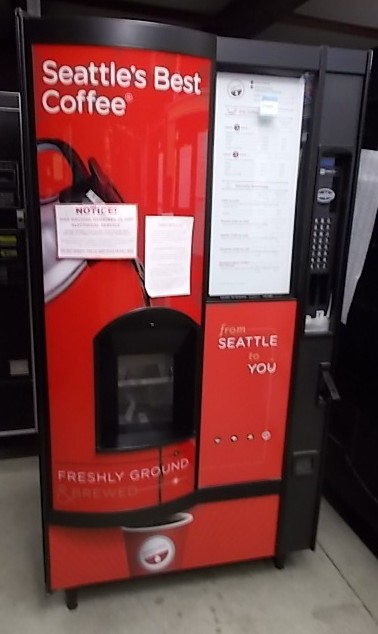 Type: Hot Beverage
Manufacturer: Crane National Vendors
Model: 677, Seattle's Best Hot Drink Center

Serial Number: 013204 and 013203
Selections: Freshly Ground Coffee
- Cafe au Lait: Freshly ground coffee and milk combined in a way that's delicious
- Mocha Cafe au Lait: Fresh ground coffee and a hint of cocoa goodness

- Vanilla Cafe au Lait: Fresh ground coffee, milk and a hint of sweet caramel goodness

- Seattle's Best Coffee Hot Cocoa: Made from the highest quality gourmet cocoa

Bill Acceptor: MEI 2512 $1 and $5
Coin Changer: Mars/MEI 7512
Type: Hot Beverage
Manufacturer: Crane National Vendors
Model: 677, Seattle's Best Hot Drink Center

Serial Number: 013204 and 013203
Selections: Freshly Ground Coffee
- Cafe au Lait: Freshly ground coffee and milk combined in a way that's delicious
- Mocha Cafe au Lait: Fresh ground coffee and a hint of cocoa goodness

- Vanilla Cafe au Lait: Fresh ground coffee, milk and a hint of sweet caramel goodness

- Seattle's Best Coffee Hot Cocoa: Made from the highest quality gourmet cocoa

Bill Acceptor: MEI 2512 $1 and $5
Coin Changer: Mars/MEI 7512
Condition: We have three (3) 677 Seattle's Best machines
1 Used Excellent & 100% operational

1 Demo - Very close to new in all ways
1 New - Never Used

Price: NEW LOWER PRICES
Used Machine-$2,995 each

Demo Machine - $3,995
New Machine - $5,995

NOTES:
Serial number 013204 was purchased brand new in Sept 2011 and has never been used. Serial number 013203 was purchased Feb 2012 as a factory demo used by the manufacturer in several trade shows, and by Automated Services for less than 9 months. It's almost indistinguishable from new. The used machine was purchased brand new by Automated in Feb 2012 and used at a low volume location for approximately 2 years.

All machines are identically equipped and in complete working order. Seattle's Best is owned by Starbucks, it's Starbucks branded solution for the food service trades. It's a turnkey program; Seattle's Best Coffee range of ingredients, lab/field tested & approved brewing process, electronically programmed preset recipes for drink consistency, factory installed Seattle's Best Coffee graphics & menus, and quality Seattle's Best Coffee branded over the counter style large & small cup sizes. (12oz & 16oz). Seattle's Best Coffee machines take vended coffee to its highest level.

Warranty:
A 30 day part warranty is included (All replacement parts to be supplied/obtained from seller, Automated Services LLC, 145 Pepe's Farm Rd Milford, CT 06460. Labor is the responsibility of the buyer.)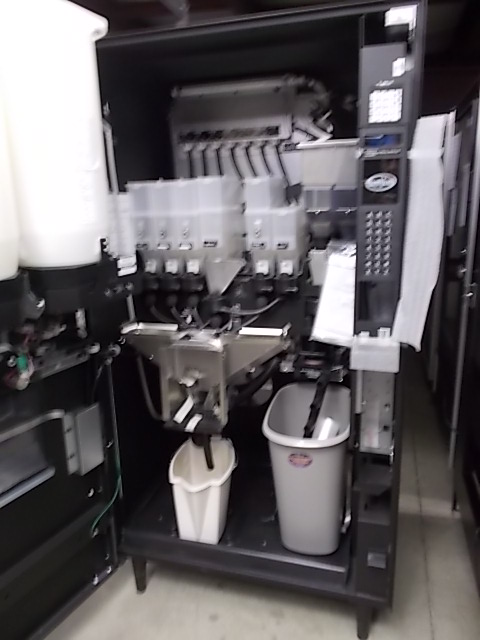 CAPACITIES:
Cups (approximate)
600-12oz
380-16oz
Dry Product
Coffee canister - 14 lbs beans
Decaf canister – 9.5 lbs beans
Flavored gourmet coffees – 6 lbs
Chocolate – 10 lbs
Freeze dry coffee – 2 lbs
Sugar – 11 lbs
Lightener – 4.5 lbs

FEATURES:
*

Freshly brews a premium brand of coffee and specialty

beverages from a conveniently located

vending machine.
*

Help grow sales with increased demand and higher

price points.
*

Includes a wide range of premium offerings.
*

Seattle's Best Coffee lab/field tested &

approved brewing process.
*

Electronically programmed, preset recipes for drink consistency.


MODEL SPECIFICATIONS:

* Height: 72"

*
Width: 38.13"
*
Depth: 33.75"
*

Electrical: 115 VAC, 60Hz, 16A (20 circuit required)

*

Shipping Weight: 570 lbs

*

Listings: ULus, CE, FCC, NAMA
CALL TOLL-FREE:
(800) 727-8363 Ext 19
Automated Services, LLC. 145 Pepe's Farm Road, Milford, CT 06460. All rights reserved. 2018