276 S11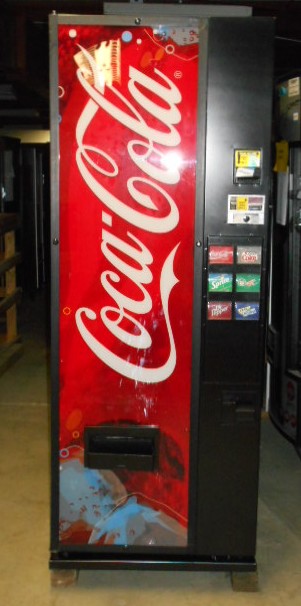 Type:
Cold Drink

Manufacturer: Dixie Narco (DN)
Model: DN 276 S11
Selections: 6
3 Narrow Double Depth Columns
(Capacity 32 12 oz. cans each)
3 Wide Double Depth Columns
(Capacity 60 12 oz. cans each)
Total Capacity: 276 12 oz. cans)
Bill Acceptor: MEI VN2500 Series $1
Coin Changer: MEI TRC6000
Condition: Used, Excellent & Ready to Operate
Price: $1,195 NEW LOWER PRICE
NOTES:
This Dixie Narco 276 Cold Drink vends 12 oz cans, accepts $1.bills, nickels, dimes, quarters and dollar coins and is in 100% operating condition. Its overall appearance is excellent, pleasing to the eye with a hint of the luster of new still reaming. Dixie's S11 ELECTRONICS with system diagnostics & system set-up/audit functions also allows each selection to be individually priced. The 276 S11 has the smallest footprint of all the Dixie Narco machines at 28" wide and 26" deep.

Dixie Narco is a major manufacturer of vending machines for Coca-Cola , Pepsi & etc. and is located in Williston, SC.

Warranty:
A 30 day part warranty is included (All replacement parts to be supplied/obtained from seller, Automated Services LLC, 145 Pepe's Farm Rd Milford, CT 06460. Labor is the responsibility of the buyer.)

FEATURES:
* Double-Depth 12 oz. Can High Capacity
(16 oz. Plastic Vending Bottles at 1 Deep)
* Multi-Pricing Capability.
* Historical and Interval Accounting Data.
* Automatic Service Diagnostics.
* CFC-Free, Lint Tolerant, 1/3 HP


Refrigeration System
* UL/COL Outdoor Approval
MODEL SPECIFICATIONS:




* Height: 72"




* Width: 28"




* Depth: 26"




* Shelves: 6 columns

(3 wide/3 narrow)


* Capacity: 276 12 oz. cans




* Weight: 562 lbs




* Operation - electric, CSA and UL listed


* Electrical - 120 volts: 60Hz:


11 1/2 amperes.



CALL TOLL-FREE




(800) 727-8363 Ext. 19


Automated Services, LLC. 145 Pepe's Farm Road, Milford, CT 06460. All rights reserved. 2016