DNCB 501/280-8, DN 501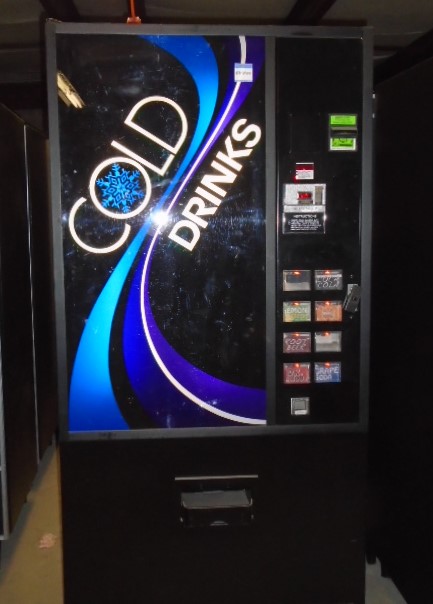 Type: Cold Drink
Manufacturer
: Dixie Narco
(DN)
Model:
DNCB501/280-8, DN501
Selections:
8
5 Narrow Triple Depth Columns
(Capacity 48 12 oz. cans each)
3 Wide Triple Depth Columns
(Capacity 87 12 oz. cans each)
Total Capacity: 501 12 oz. cans
Bill Acceptor:
Yes
Coin Changer:
Yes
Condition:
Used, Good.100% Operational &

made


ready for

location by Automated

Services LLC



Price:
$795 each
NOTES:
We have several used DNCB501/289-6, DN501 (Dixie Narco Cold Beverage machines). The machines are in 100% working order, equipped with coin and dollar bill acceptors and ready to operate. The front medallions are free of cracks and deep scratches, and when illuminated most light scratches and minor imperfections disappear. Dixie Narco built its stellar reputation based on the design and performance of these machines.They are easy to operate, repair, very reliable, and replacement parts are readily available.

Dixie Narco is a major manufacturer of vending machines for Coca-Cola , Pepsi ,& etc, and is located in Williston, SC.
Warranty:
A 30 day part warranty is included (All replacement parts to be supplied/obtained from seller, Automated Services LLC, 145 Pepes Farm Rd Milford, CT 06460. Labor is the responsibility of the buyer.)
FEATURES:

Triple Depth --- 12 oz. Can High Capacity (or 10oz PLBs)
Extremely simple vend mechanism --- accessible from the front, operating mechanism for each stack/column can be replaced on location by removing 4 screws.
Refrigeration system --- complete sealed refrigeration unit and control are easily reached from the front of the cabinet: oversized evaporator cools rapidly.
Foamed - in - place --- insulation greater cabinet strength with increased damage resistance, lighter weight, higher insulation efficiency and more vending capacity for a given floor area is provided by polyurethane foamed – in – place insulation.
Reinforced Base --- assembly provides greater structural strength and a sold foundation against damage from moving the vender or the use on casters. Holes provided in base to fasten vender to floor.
Double Security Door --- two rugged, reinforced doors eliminate joint cracks on front cabinet to discourage vandals. The interior of the door is designed with a structurally reinforced security vault, which contains the coin changer and coin box. Accessory lock holds doors together, allowing product loading only.
Corrosion Resistance --- top, sides and all external parts of cabinet and door are made of galvanized steel, especially designed to resist ocean spray.
Vandal Panels --- deter vandalism , 12 gauge galvanized steel panels riveted to cabinet wall and bolted to door side, conceal gasket joint; easily replaced on location, to restore new look if vandals strike.
Lockout System --one plug-in relay--perites operation of remaining columns, even if one column is inoperative.
"Sold-out" lamp lights on inoperative column
Medallion --- is of tough, impact resistant Lexan material.
Safety --- all internal edges are hemmed and corners capped to reduce product damage or injury to employees.

MODEL SPECIFICATIONS:

* Height: 72"
* Width: 37"
* Depth: 29"
* Selections: 8
* Shelves: 8 columns
* Capacity: 501 12 oz. cans
* Weight: : 758 lbs.
* Electrical - 120V-(110V): 60Hz: 11.5 amperes.


CALL TOLL-FREE
(800) 727-8363 Ext. 19
Automated Services, LLC. 145 Pepe's Farm Road, Milford, CT 06460. All rights reserved. 2018