HOT BEVERAGE MACHINES

(aka Coffee machines, Coffee vendors, Hot beverage machines, Hot beverage vendors, Hot drink machines, Hot drink vendors)
================================

Type: Hot Beverage
Manufacturer: RMI Automated Products, API, AP

Model: 8050G Bean Grinder

Serial: 29595

Selections: 14 Selection Buttons
-1 Extra Strong Serving The Bean Coffee and Soluble Decaf Coffee Selections
-4 Bean Freshly Brewed Coffee Selections
Black, Light, Black with Sugar and Light with Sugar
-4 Soluble Decaf Coffee
Black, Light, Black with Sugar and Light with Sugar
-1 Tea (Soluble)
-1 Extra Light
-1 Extra Sugar
-1 Soup
-1 Whipped Hot Chocolate

Bill Acceptor: Mars VFM

Coin Changer: Mars 6800H

Condition: Reconditioned and Ready to Operate

Price: $2,195

NOTES:

The process of designing and manufacturing hot beverage vendors that offer freshly brewed coffee is complex. RMI (Refreshment Machinery Industries) was acquired by Automatic Products (AP) (API) and is now part of Crane National Vendors CMS) group. Developed one of the best brewing systems. This same system/design, other than several tweaks to increase serving size, has remained in production until 2010. The reason for the change is production cost. New hot beverage machines by major manufacturers are $6300.-$7000. While the new models offer additional soluble products (flavored coffees) and enable customers to chose between 2 cup sizes, these options are often used as sale tools to solicit potential customers (best ones competition) but contribute little to a company's bottom line. Fresh brewed coffee will be the best seller by far and the ability to brew fresh coffee in either new or used will be equal.

This 8050G (G for Grinder) known as a bean machine, actually grinds the coffee beans for each vend cycle, the ground coffee is then brewed giving each customer an individual freshly ground and brewed cup on coffee. The coffee beans are poured into a hopper, the hopper is mounted on hinged bracket allowing the hopper to swing outward for easy loading and access to the coffee brewer. Soluble decal coffee, nondairy crème, sugar, soluble tea, soup and chocolate are loaded into individual canisters. The canisters have hinged lids and are easily filled and serviced. Cups are easily loaded into the dispensing unit conveniently located on the door. The 8050G is a basic version of its newer rivals. It has the essentials without the complexities additional options bring to the table. It's easier to operate, maintain and service.

Our technicians are extremely familiar with the 8050 series and take pride in their work. All aspects of this machine's operation have been serviced, repaired and checked to deliver peak performance. This 8050G has been set up for an 8 ¼ oz serving. We have refaced this 8050G with high-grade commercial vinyl. During this process, all vertical and horizontal trims are removed and replaced, as needed. In addition, each face panel is removed and has new vinyl applied to it. The end result is a new look that will stand the test of time with no exposed edges or seams for customers to pick at or peel. Mechanically, you can expect this 8050G to be in 100% working order. Replacement parts are readily available at reasonable prices as both new and used.

Automatic Products International. (API) (AP) is now a Crane National Vendors/Crane Merchandising Systems (CMS) brand built in Williston, SC.

Specs. and Additional Information

_________________________________________________________________________________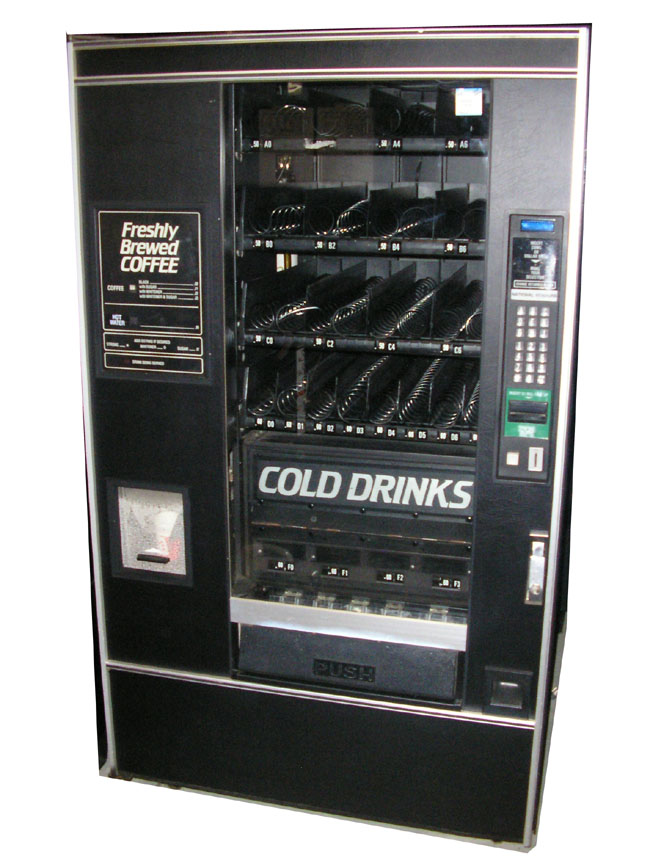 NATIONAL

Type: Cold Drink/Glassfront/Hot Beverage
Manufacturer: National
Model: 475 Refreshment Center

Serial Number: 11638

Selections: - 3 snack trays @ 4 selections each
- 1 candy tray @ 8 selections
- 4 gum and mint selections

- 4 Cold Drink/Soda selections

(For 12 oz. cans @ 18 cans each.

Total capacity: 72 12 oz. cans)

- Fresh Brewed Coffee & Hot Water.

Capacity of 250 8 oz cups

Bill Acceptor: Conlux
Coin Changer: Mars TRC6000
Condition: Location Ready
Price: $2,400
NOTES:

This combo is 3 machines in one:

It's a

conventional snack machine

, which is easy to see.
It's a

cold drink/soda machine

. That part of the machine is a module within the machine. (A miniature conventional soda machine within the machine). It's a refrigerated module, with a capacity of 72 12oz cans having 4 flavor selections. Cans are easily replenished / loaded from the front on machine.
The

coffee

side of this machine offers freshly brewed coffee & hot water. (Hot chocolate packets and others may be offered by utilizing a snack selection to vend them.) The coffee section has canisters, for ground coffee, non-dairy creamer, sugar and a cup dispensing turret with a capacity of 280-7 oz cups or 250-8.25 oz cups. Coffee customers are able to adjust and select the condiments they like. The coffee section requires a water line/supply. Each cup of coffee is individually brewed. The coffee grounds are automatically dispensed into a waste pail, which must periodically be manually emptied.
Specs and Additional Information

__________________________________________________________________________________

Automated Services, LLC. 145 Pepe's Farm Road, Milford, CT 06460. All rights reserved. 2011