LEKTRO VEND
LVB32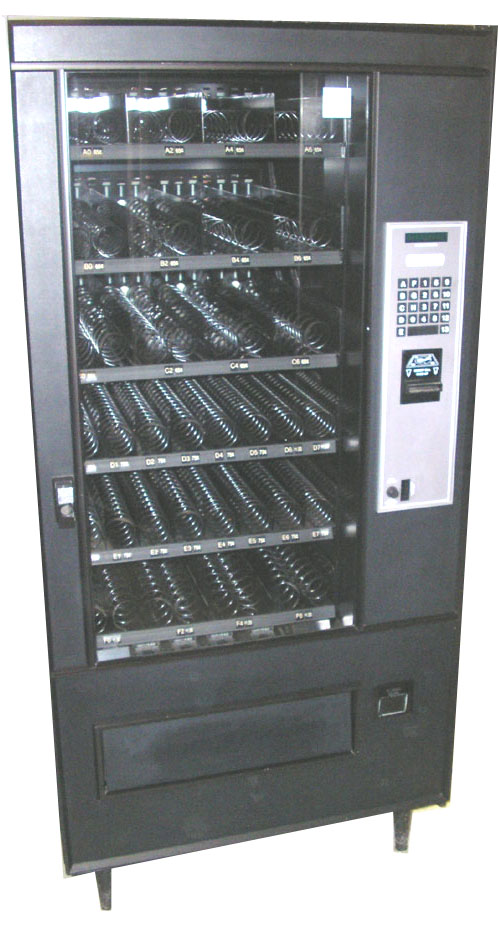 Type: Snack Glassfront
Manufacturer: Lektro Vend
Model: LBV32
Serial Number: LB18755

Selections: 28 plus Gum and Mint -
-5 snack trays @ 5 selections each
-1 candy trays @ 8 selections each
-4 gum and mint selections
Bill Acceptor: BA32SA
Coin Changer: CoinCo 9302LF
Condition: Location Ready
Price: $799
NOTES:
Lektro Vend, now part of Crane National Vendors/Crane Merchandising Systems (CMS), was the first manufacturer to offer dual spirals (coils) and hard wired trays in their glass front snack merchandiser. These concepts/designs have been worked into every new snack merchandiser produced today by all the major manufacturers. Crane combined the best designs from its Glassco brand and those of Polyvend and Lektro Vend to launch the GPL brand.

This Lektro Vend has been checked and rechecked and is in 100% working order. The dual spirals are reassuring to customers as they ensure a positive vend. The bill acceptor has been upgraded with a later generation and the machine itself has modern look about it.

Warranty: A 30 day part warranty is included (All replacement parts to be supplied/obtained from seller, Automated Services LLC, 145 Pepes Farm Rd Milford, CT 06460. Labor is the responsibility of the buyer.)


FEATURES:
* All-steel construction, 16 and 18 gauge.
* Dual augers
* Trays rest at 45 ° angle for easy loading.
* Proven third generation solid state electronics.
* Positive tray attachment delivers fail safe vending.
* Large glass front
* Large product delivery area
* Four Columns wide
* Cash counter
* Six Shelves

MODEL SPECIFICATIONS:
* Height: 72"
* Width: 40"
* Depth: 35"
* Shelves: 6 shelves.
* Capacity: 627 items.
* Weight: 570 lbs.
* Options: Coin mech, Bill validator
* Operation - electric, UL Listed
* Electrical - 115 volts 60/50 Hz.

CALL TOLL-FREE:
(800) 727-8363 Ext 19

Automated Services, LLC. 145 Pepe's Farm Road, Milford, CT 06460. All rights reserved. 2011