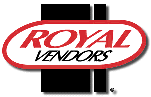 650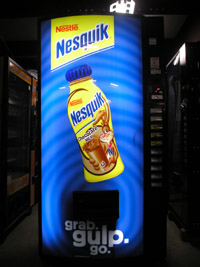 Type:
Nesquick Milk
Manufacturer
: Royal
Model:
650
Selections: 10 Selection buttons

programmable to draw from one

or more of 12 columns
12 Columns (capacities per

column approximately 26 12 oz/1

pint bottles depending on exact

package size and shape)
Total Capacity: 312

Bill Acceptor:
No (available at an additional cost)
Coin Changer:
No (available at an additional cost)
Condition:
New
Price:
$2,595

NOTES:
This is a brand new machine. We have several coin changer and bill acceptor options to offer with this Royal Milk Merchandiser at an additional price. Milk Merchandisers differ from cold drink machines (soda machines). While both machines are considered stack type vendors, meaning the beverages are stacked on top of one another in columns, cold drink vendors only cool the bottom third of each stack, chilling the beverages as they come near the vend cycle. Milk machines, on the other hand, cool the entire stack of beverages and are equipped with health timers, devices required by most state laws ensuring products are safe for consumption. This Royal Milk Merchandiser may vend a variety of cold drinks: energy drinks, juice, soda, and water packaged in12oz cans,16oz and 20oz bottles, as well.
The Royal 650 series column design differs from other leading manufacturers. While most manufacturers have columns designed to hold the same product in each column front to back, the Royal design divides each column into 2 spaces (a front and a back space) creating 12 columns, each column/space able to hold different products. The columns are assigned/programmed to one of 10 selection buttons by means of the machines electronic control board. This allows greater flexibility in establishing peak product capacity per selection for each location's needs, in-turn allowing the vending operator to increase time between service intervals.
Royal is the #1 manufacturer for Coca-Cola Coke machines. The Royal factory is located in West Virginia. Replacement parts are readily available and reasonably priced.
FEATURES:

* Health Timer

* Delivery chute sensor.

* Enhanced electronics and LED display.

* Programmable options.

* High-Capacity stack.

* Historical and interval accounting data.

* Lowest weights among comparable models.

* Electronic refrigeration.
MODEL SPECIFICATIONS:

* Height: 72"

* Width: 37"

* Depth: 35.5"

* Shelves: 12 columns, 10 selections.

* Capacity: Approximate, depending upon exact package size and shape, 26 12oz/1 pint bottles per

column, Total: 312

* Weight: 620 lbs.

* Operation - electric, CSA and UL Listed

* Electrical - 120 volts; 60Hz; 11 1/2 amperes.
CALL TOLL-FREE

(800) 727-8363 Ext. 19




Automated Services, LLC. 145 Pepe's Farm Road, Milford, CT 06460. All rights reserved. 2011