7635 and 7640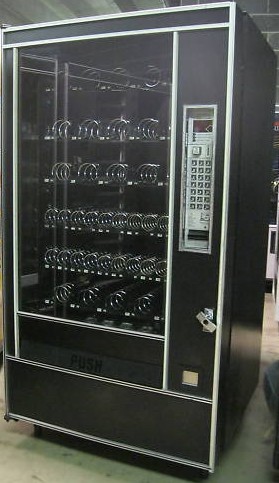 Type:

Manufacturer
: Automated Products (AP) (API)
Model:
Series 7000, Models 7635 & 7640
Selections:
Model 7635



35 plus 5 gum and mint


5 snack trays @ 5 selections each




1 candy trays @ 10 selections each




5 gum and mint selections



Model 7640


40 plus 5 gum and mint
4 snack trays @ 5 selections each
2 candy trays @ 10 selections each
5 gum and mint selections
Bill Acceptor:
Mars MEI VN2501
Coin Changer:
Mars TRC6000
Condition:
Reconditioned and Ready to Operate
Price:
Monthly Sp
ecial
Model 7635 or 7640 - $995
NOTES:
The AP 7635 and 7640 Snackshops were well designed, and quality crafted for function and durability, with the goal of being the best glass front snack machines. They were and continue to be the choice of many vending operators, and most importantly, the most reliable. They are pleasing to the eye, highly functional, and easy to operate for customers and owners. We reface these machines with high-grade commercial vinyl. It is a process where all vertical and horizontal trims are removed and replaced as needed, and each face panel is removed and refaced with new vinyl. the result is a look that is contemporary, having the luster of new and tamper-proof with no exposed edges or seams for customers to pick at or peel. Mechanically, we address several minor inherent problems with manufacturer--approved procedures, retrofit the dollar bill and coin acceptors with the Mars MEI VN 2000/TRC 6000 package enabling the 7635 and 7640 models to accept and process dollar bills at today's standards. All aspects of this machine's operation have been serviced, repaired and checked to deliver peak performance. You can expect this AP 7635 and 7640 Snackshop to be in 100% working order.

Automatic Products Inter. (API) (AP) is now a Crane National Vendors/Crane Merchandising Systems (CMS) brand built in Williston, SC. The company built its reputation for making the best snack machines money could buy based on the production of its 6000, 6000XL and 7000 series machines.


Warranty: A 30 day part warranty is included (All replacement parts to be supplied/obtained from seller, Automated Services LLC, 145 Pepes Farm Rd Milford, CT 06460. Labor is the responsibility of the buyer.)
FEATURES:

* Comes with a Mars coin changer

* Newly installed Mars/MEI bill acceptor upgrade
* Over 8 square feet of viewing area!
* Save time and money with direct pricing option.
* Set prices by direct entry, eliminating price incrementing routine.
* Check prices from outside the machine by making selection with no money deposited.
* Timing control eliminates operate mode switch.

MODEL SPECIFICATIONS:
* Height: 72"
* Width: 38 7/8"
* Depth: 35"
* Shelves: Five or six shelves and up to 65 selections.
* Capacity: Model 7635: approx. 514 items; Model 7640: approx. 614 items
* Weight: 760 lbs.
* Operation - electric, CSA and UL Listed
* Electrical - 115 volts; 60Hz.

CALL TOLL-FREE
(800) 727-8363 Ext. 19

Automated Services, LLC. 145 Pepe's Farm Road, Milford, CT 06460. All rights reserved. 2016