148 Snack Center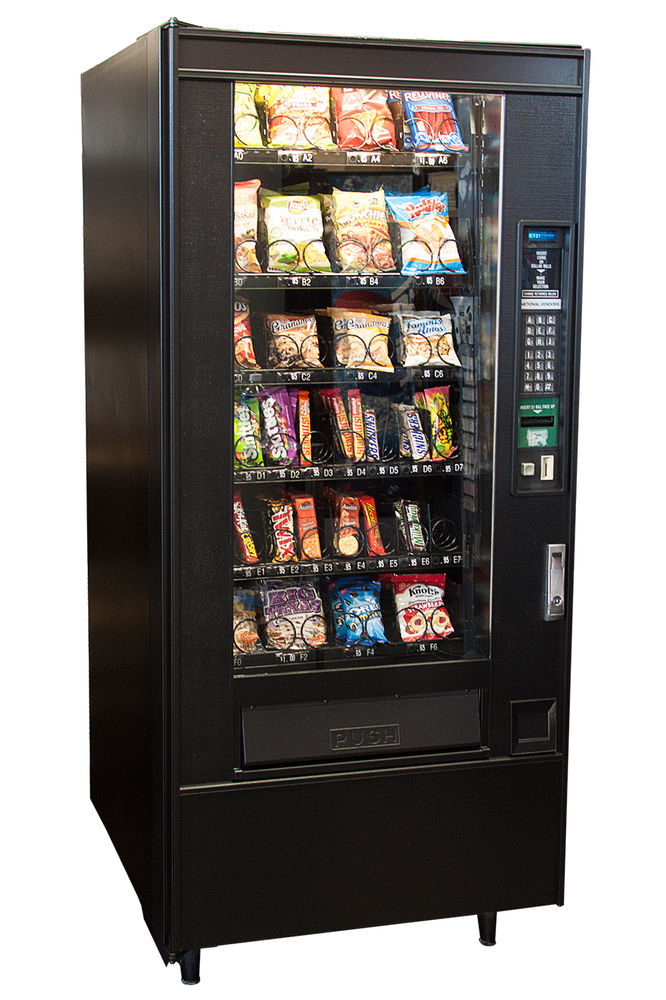 Type: Glassfront
Manufacturer: Crane National Vendors,
Crane Merchandising Systems
Model: 148 Snack Center
Selections: 32 plus 5 gum and mint
4 snack trays @ 4 selections ea.

2 candy tray @ 8 selections ea.
Bill Acceptor: Mars MEI VN2501
Coin Changer: Mars MEI TRC6000
Condition: Reconditioned and Ready to operate
Price: $1,195
Notes:

The 148 Snack Center 2 with dual spirals (coils) for each snack selection seldom fails to vend and having the option to electronically couple any 2 candy selections to run simultaneously as 1 snack selection (No tools required) easily allows the 148's configuration to be tailored for needs of any given location, making this machine a great performer and one of the more popular models with in the vending trade.

We reface these machines with high-grade commercial vinyl. It's a process where, all vertical and horizontal trims are removed and replaced, as needed, each face panel is removed and has new vinyl applied to it. The end result is a new look that will stand the test of time with no exposed edges or seams for customers to pick at or peel. Mechanically, we address several minor inherent problems with manufacturer-approved procedures. You can expect this 148 Snack Center to be in 100% working order.

Crane National Vendors / Crane Merchandising Systems (CMS) Machine are built in Williston, SC.


Warranty: A 30 day part warranty is included (All replacement parts to be supplied/obtained from seller, Automated Services LLC, 145 Pepe's Farm Rd Milford, CT 06460. Labor is the responsibility of the buyer.)
FEATURES:

MERCHANDISING FLEXIBILITY- Sell candy and snacks on the same shelf. Motors couple easily and divider slide out to convert to either candy or snack.
EASY LOADING- Each shelf tilts forward at 45 degrees, making it easy to reach even the upper shelves.
CONTINUOUS PRICE ROLLS-Just dial up the correct price. No more little price tabs that fall out, get lost, or are hard to find.
ADVANCED ELECTRONICS-Multiple pricing and data recall (by selection, tray, or machine); self-diagnostics; time and date capabilities; winner mode (1:10 to 1:9,999); discount mode; inhibit mode; and, custom messages.
CONSUMER FRIENDLY -The alpha numeric keypad makes choosing a product easy for consumers. The large buttons and bold lettering make it simpler to use than other systems.
MODEL SPECIFICATIONS:
Height: 72"
Width: 32"

Depth: 35.5"

Shelves: 6

Capacity: 450 - 1,800 items, including gum and mint dispenser.

Weight: 565 lbs.

Operation - Electric, cULus, CE, FCC and NAMA Listed

Electrical - 115 volts; 60Hz; 3 amperes.
CALL TOLL FREE:
(800) 727-8363 Ext 19

Automated Services, LLC. 145 Pepe's Farm Road, Milford, CT 06460. All rights reserved. 2016