368 MPC & 501 MPC
Type: Cold Drink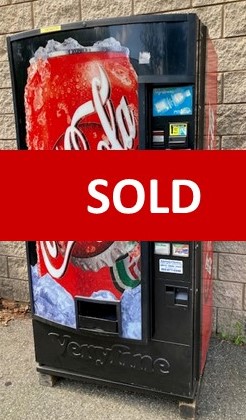 Manufacturer
: Dixie Narco
(DN)
Model:
DN 368 MPC & 501 MPC
Selections:
8
368 MPC
= 4 wide columns with capacity of 60 12 oz. cans
4 narrow columns with capacity of 32 12 oz, cans
Total Capacity = 368 12 oz cans
501 MPC
=
3 wide columns with capacity of 87-1/2 12 oz. cans
5 narrow columns with capacity of 48 12 oz. cans
.
Total Capacity = 501 12 oz cans

Bill Acceptor:
Mars/MEI VN2501
Coin Changer:
Mars/MEI TRC6000
Condition:
Very Good-Excellent, Tested, Cleaned,

Location Ready
Price:
$1,195
NOTES:
There are 4 basic generations of the Dixie Narco 368 and 501 machines The 368 & 501 MPC (Multi Price Controller) series is the second generation, and the first to allow independent pricing for each selection. They vend 12 oz cans, accept $1.bills, nickels, dimes, quarters and dollar coins. The only outward difference between the 368 & 501, is the depth dimension, 26" for the 368, 29" for the 501. The deeper 501 cabinet allows triple depth can loading vs. double depth can loading in the 368, hence the 501s greater capacity.
These 368 and 501 MPC machines were originally built as Veryfine Juice machines with specially shaped medallions. We are offering these machines with a the latest styled Coke medallions at $1195. The machines have been in storage for several years and are in very good condition. We were once a machine distributor for Veryfine. Our technicians know and understand the machines well. The machine you receive will be in 100 % working order, pleasing to the eye, and still retaining a bit of the luster of new.

Dixie Narco is a major manufacturer of vending machines for Coca-Cola , Pepsi & etc. and is located in Williston, SC
Warranty: A 30 day part warranty is included (All replacement parts to be supplied/obtained from seller, Automated Services LLC, 145 Pepe's Farm Rd Milford, CT 06460. Labor is the responsibility of the buyer.)
FEATURES:
*
Multi Price Controller, a highly sophisticated micro-computer based control module

*
Vends up to a maximum of 8 different prices
*
Each price is adjustable from $.05 to $9.95
High visible, four-digit display
*
Controller style coin changer interface
*
Single-price coin changer interface

*
Dollar bill acceptor interfaces
*
Debit card compatible

*
Prior product sold-out knowledge
*
Standard select-vend refrigeration – cabinet modules
*
Complete set of accountability data in memory


MODEL SPECIFICATIONS:

* Height 72"

* Depth 368 =26" , 501=29"

* Width 37"

* Shelves: 8 columns.(3 wide/5 narrow)

* Capacity: 501 12 oz. cans.

* Weight: 368=675 lbs 501=740 lbs

* Operation - electric, CSA and UL listed

* Electrical - 120 volts: 60Hz: 11 1/2 amperes



CALL TOLL-FREE
(800) 727-8363 Ext. 19
Automated Services, LLC. 145 Pepe's Farm Road, Milford, CT 06460. All rights reserved. 2023