AMS VC-39-Outsider Visi-Combo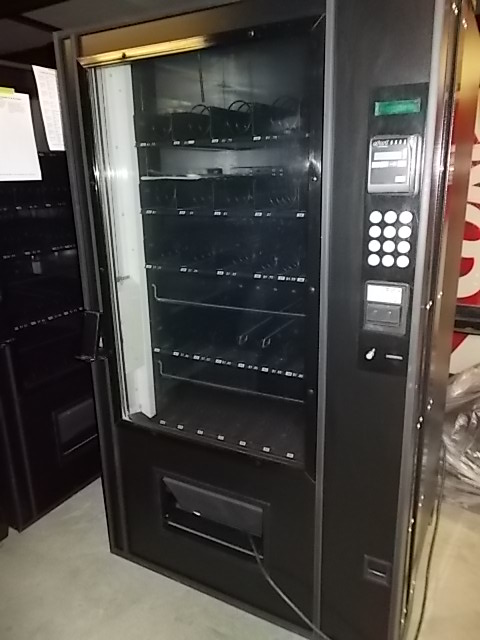 Type: Combo
Manufacturer
: AMS (Automated Merchandising Systems)
Model: AMS 39-VC-OUTSIDER Visi-Combo

Serial Number: 1204-5363
2 cold beverage trays @

Capacity 6 per selection

2 snack trays @ 5 selections each

1 split tray with 3 snack and

4 candy selections

Bill Acceptor:
Conlux 2120 ($1 & $5)
Coin Changer:
Conlux (5 coin tube

payout system)
CC Acceptance
: USA Tech
optional @ + $350
Condition:
Used, Excellent,


100% Operational & made ready

for location by Automated

Services, LLC

Price: $3,695 or $4,045 with

Photo Note: Credit card acceptor is not included. May be added as option.
NOTES:
This is a 2012 AMS 39-VCF (VC= Visi-Combo-Food) with the AMS OUTSIDER option. It's in 100% working order and very close to new in appearance. The OUTSIDER features heavy gauge steel vandal panels, a lock cover made of heavy-grade steel and a triple pane heated glass protected by a layer of durable polycarbonate making this machine an excellent choice for outside locations, although it's recommended the machine be sheltered from the elements.

This combination machine vends cold beverages, food, and snack items. Foods and snacks are chilled adding to their freshness and extending their shelf life. Beverages are chilled to be cold and refreshing and are easily loaded into spirals, which accommodate a number of different sized beverage containers. The machine is equipped with the AMS "Sensit" guaranteed delivery system. Vended items are detected by an infrared sensor system as they drop into the delivery bin. Customers are able to make another selection or receive a refund in the event their selection does not drop. AMS machines are the best combo vendors on the market today. They are user friendly, operator friendly, reliable, and replacement parts are readily available. Virtually all other major manufacturers of vending machines have attempted emulate the AMS designs and patents and failed to come close in terms of reliability and cost.
Warranty
A 30 day part warranty is included (All replacement parts to be supplied/obtained from seller, Automated Services LLC, 145 Pepes Farm Rd Milford, CT 06460. Labor is the responsibility of the buyer.)
FEATURES:

• Sensit® patented guaranteed delivery system. Hang-ups are no longer a problem
• Combination Snack and Cold Beverage machine fully foamed in place polyurethane foam insulated cabinet and heated triple-pane glass protected by a layer of durable polycarbonate, cools both beverages and snacks like no other machine on the market
• First-in, First-out product rotation
• Heavy-gauge steel vandal panels for greater protection
• The Outsider's new lock cover is made of heavy gauge steel
• Automatic Shutdown lets you program the machine to shut down during designated time periods
• Debit card Acceptance compatible
• Supports MDB coin changers and bill acceptor systems
• 1/2 Plus HP sealed refrigeration system

MODEL SPECIFICATIONS:
* Height: 72"
* Width: 39"
* Depth: 35"
* Weight: 750 lbs.
* Shelves: 6
* Capacity: Approximately 198 snack/ food items and 96 beverages

* Operation: electric, CSA and UL Listed
* Electrical - 115volts, 60 Hz, 3 amperes

CALL TOLL-FREE
(800) 727-8363 Ext. 19

Automated Services, LLC. 145 Pepe's Farm Road, Milford, CT 06460. All rights reserved. 2019