AMS G9-640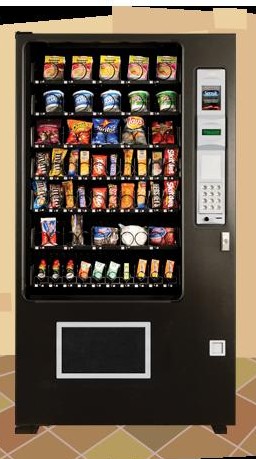 Type:
Snack Glassfront
Manufacturer
: AMS (Automated Merchandising

Systems)
Model: AMS G9-640 WideGem

Serial Number: 1408-0120
Selections: 40




4 snack trays @ 5 selections

each
2 candy trays @ 10 selections

each

Bill Acceptor:
Conlux 3140 ($1 & $5)
Coin Changer:
Conlux CCM5G (5 coin tube

payout system)
Condition:
Brand New, with reconditioned

Conlux coin changer & bill

acceptor


100% Operational & made ready

for location by Automated

Services, LLC

Price:
$2,995
NEW LOWER PRICE
NOTES:
This is a brand new 2014 AMS G9-640 WideGem snack machine. Equipped with a reconditioned Conlux coin changer / bill acceptor package able to accept nickels, dimes, quarters, dollar coins, $1's and $5 dollar bills, and make change with 1 nickel, 1 dime and 3 quarter payout tubes, The machine is equipped with the AMS "Sensit" guaranteed delivery system, and dual spirals on all 20 of the snack selections.

Warranty: The AMS Factory Warranty covers the following 3-year warranty for board, 1-year warranty all other parts starting on the machines product date. Labor is not included. Warranty exceptions: fluorescent bulbs, glass, and paint finish. This machines production date is August 2014

Automated Services LLC Warranty: A 30 day part warranty is included (All replacement parts to be supplied/obtained from seller, Automated Services LLC, 145 Pepe's Farm Rd Milford, CT 06460. Labor is the responsibility of the buyer.)
FEATURES:

• Sensit® patented guaranteed delivery system
• State-of-the-art electronics
• 3-year warranty for board
• 1-yr warranty all other parts
• Warranty exceptions: fluorescent bulbs, glass, and paint finish
• Motor coupling & home positioning
• Enhanced ValueVend
• Most parts are interchangeable with most other AMS vendors
• Options available
MODEL SPECIFICATIONS:
* Height: 72"
* Width: 39"
* Depth: 35.5"
* Weight: Approx. 550 lbs.
* Shelves: 6
* Capacity: Approximately 550-600 snack/ food items
* Operation:
* Electrical 1115 VAC 60 Hz 3 AMPS CSA

CALL TOLL-FREE
(800) 727-8363 Ext. 19

Automated Services, LLC. 145 Pepe's Farm Road, Milford, CT 06460. All rights reserved. 2018