121 and 122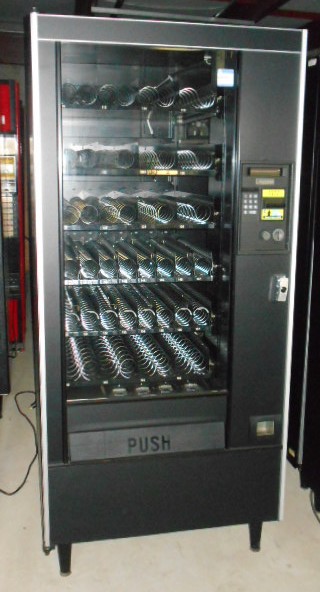 Type: Glass Front
Manufacturer: Automated Products (AP) (API)
Model: 121 &122 SnackShop Series
Selections: 32 + 4 Gum/Mint
4 snack trays @ 4 selections each
2 candy trays @ 8 selections each
(Total snack & candy capacity = approx. 338 items in the AP-121 and 508 items in the AP-122)
1 Gum/Mint tray @ 4selections each
(Total capacity = approx. 136 items)
Bill Acceptor: MEI VN2512 ($1s)
Coin Changer: MEI TRC6512 (0.05, .10 and .25 coin acceptance & payouts)
Condition: Used, Excellent and 100% Operational
Price: $1,895 (with $1 acceptance)
$2,095 (upgraded to $1 and $5 acceptance)

NOTES:
Currently, we have a limited number of AP-121 & 122 SnackShops in stock. The AP-121 is just 27 5/8" deep (great for narrow door openings.) while the AP-122 is 35 " deep. Height and width for both are equal at 72'' and 33 1/2". The trays and spirals (coils) in the AP-121 are slightly shorter (less deep) due to the cabinet depth resulting in less capacity for the AP-121. These machines are equipped with dual spirals on all snack selections and have Mei TRC 6512 / VN2512 coin & bill acceptor packages. They are in great shape possessing much their original luster of new, and have been thoroughly cleaned, tested, and are in 100% working order.

The AP-120 SnackShop Series, designed and crafted with function, durability and today's demands in mind, are considered by many professionals to be the best snack machines.

Automatic Products Inter. (API) (AP) is now a Crane National Vendors/Crane Merchandising Systems (CMS) brand built in Williston, SC.

Warranty: A 30 day part warranty is included (All replacement parts to be supplied/obtained from seller, Automated Services LLC, 145 Pepe's Farm Rd Milford, CT 06460. Labor is the responsibility of the buyer.)
FEATURES:

• "Consumer Friendly" selection panel based on the consumer-accepted telephone key pad makes selecting snacks and candies easier than ever. In addition, the scrolling message features an up to 20 character display for your personalized greetings.
• Programmable Master Menu Keypad helps you set each merchandiser to your specifications.
• Eight Point Star Drive Motor utilizes an eight-point star drive design that allows you to customize the stopping position of any spiral. This advantage virtually guarantees the positive delivery on even hard to vend items.
• Next Generation Electronics incorporate unique programmable function keys that allow you to tailor machine
operations to meet specific location requirements.
• Multidrop Bus Capabilities (MDB) and Micr0mech peripheral capabilities enable you to utilize both new and existing coin mechanisms.
• Heavy duty sixteen-gauge steel for the production of the cabinets
• Metal (instead of plastic) shelves.
MODEL SPECIFICATIONS:

* Height: 72"
* Width: 33.5"
* Depth: Model 121 = 27-5/8"; Model 122 = 35"

* Shipping Weight: Model 121 = 500 lbs.; Model 122 = 565 lbs.
* Listing: NAMA, UL & UL-C, Meets FCC Part 15 Standard

CALL TOLL-FREE
(800) 727-8363 Ext. 19
Automated Services, LLC. 145 Pepe's Farm Road, Milford, CT 06460. All rights reserved. 2017