123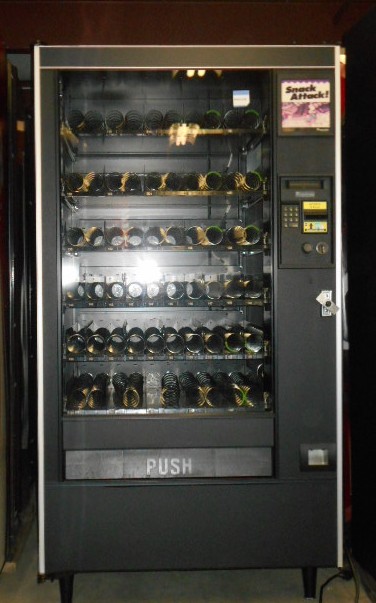 Type: Glass Front

Manufacturer
: Automated Products (AP) (API)
Model:
123 SnackShop Series
Selections:
40 + 5 Gum/Mint
4 snack trays @ 5 selections each




2 candy trays @ 10 selections each


(Total snack & candy capacity = approx.

617 items)

1 Gum/Mint tray @ 5 selections each
(Total capacity = approx. 170 items)



Bill Acceptor:

MEI VN2512

($1s)


Coin Changer:

MEI TRC6512 (0.05, .10 and .25 coin

acceptance & payouts)


Condition:

Used, Excellent and 100% Operational




Price:

$1,895 (with $1 acceptance)



$2,095 (upgraded to $1 and $5

acceptance)
NOTES:
Currently, we have several AP-123 SnackShops in stock. This AP-123 is equipped with dual spirals on all snack selections, and a Mei TRC 6512 / VN2512 coin & bill acceptor package. It's in great shape possessing much of its original luster of new, has been thoroughly cleaned, tested, and is in 100% working order. This AP-123 may also be combined with the AP-127 expander (see illustration below) to create a super high capacity snack machine.

The AP-120 Series was designed and crafted with function, durability and today's demands in mind, and is considered to be the best snack machine by many professionals .

Automatic Products International (API) (AP) is now a Crane National Vendors/Crane Merchandising Systems (CMS) brand built in Williston, SC.

Warranty:
A 30 day part warranty is included (All replacement parts to be supplied/obtained from seller, Automated Services LLC, 145 Pepe's Farm Rd Milford, CT 06460. Labor is the responsibility of the buyer.)
FEATURES: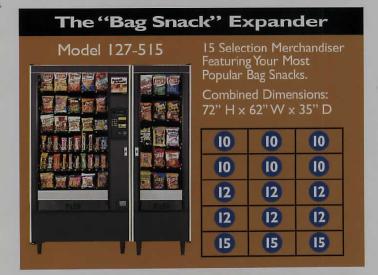 • "Consumer Friendly" selection panel based on the consumer-accepted telephone key pad makes selecting snacks and candies easier than ever. In addition, the scrolling message features an up to 20 character display for your personalized greetings.
• Programmable Master Menu Keypad helps you set each merchandiser to your specifications.
• Eight Point Star Drive Motor utilizes an eight-point star drive design that allows you to customize the stopping position of any spiral. This advantage virtually guarantees the positive delivery on even hard to vend items.
• Next Generation Electronics incorporate unique programmable function keys that allow you to tailor machine
operations to meet specific location requirements.
• Multidrop Bus Capabilities (MDB) and Micr0mech peripheral capabilities enable you to utilize both new and existing coin mechanisms.
• Heavy duty sixteen-gauge steel for the production of the cabinets
• Metal (instead of plastic) shelves.
MODEL SPECIFICATIONS:

* Height: 72"
* Width: 38-7/8"
* Depth: 35"

* Shipping Weight: 640 lbs.
* Listing: NAMA, UL & UL-C, Meets FCC Part 15 Standard

CALL TOLL-FREE
(800) 727-8363 Ext. 19
Automated Services, LLC. 145 Pepe's Farm Road, Milford, CT 06460. All rights reserved. 2016