127 Expander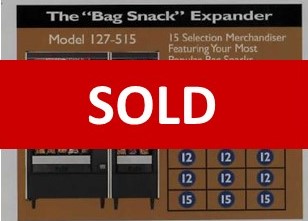 Manufacturer
: Automated Products (AP) (API)
Model:
127-515, AP127, 127

Expander


Selections:

15




5 trays @ 3 selections each




Total Capacity: Approx. 177 items



Bill Acceptor:
Not Applicable
Coin Changer:
Not Applicable
Condition:
Left Over Stock, Brand New,

Never Used, 100% Operational

and Ready to Operate
Price:
$1,445 each
NOTES:

We have 2 Brand New (left over stock) Automatic Products (AP) model 127 Expanders. The Expander adds capacity with 15 additional selections to any AP-120 & 310 series machine. Its most common use is with the AP 120 series model 123 Snackshop Merchandiser as pictured. Expanders utilize the controllers, coin mechanisms and bill acceptors of their host machines. The host machine (pictured on the left) is not included in this sale. .

Warranty: A 30 day part warranty is included (All replacement parts to be supplied/obtained from seller, Automated Services LLC, 145 Pepes Farm Rd Milford, CT 06460. Labor is the responsibility of the buyer.)

FEATURES:

* Attract more end-users with greater selectivity and snack capacity

* Reduce route labor without sacrificing sales
* Operates from any host 120 or 310 series API AP Series
* Maximize sales

MODEL SPECIFICATIONS:
* Height: 72"
* Width: 62"(including the AP 123 host machine); Expander alone: 24" wide
* Depth: 35"
* Selections: 15
* Shelves: 5 Trays
* Capacity: Approx. 177 items
* Weight: 320 lbs. approx.
* Electrical - 120VAC (110V); 60Hz, 3 Amps

CALL TOLL-FREE
(800) 727-8363 Ext. 19
Automated Services, LLC. 145 Pepe's Farm Road, Milford, CT 06460. All rights reserved. 2021