AP 213, 213G Hot Beverage Merchandiser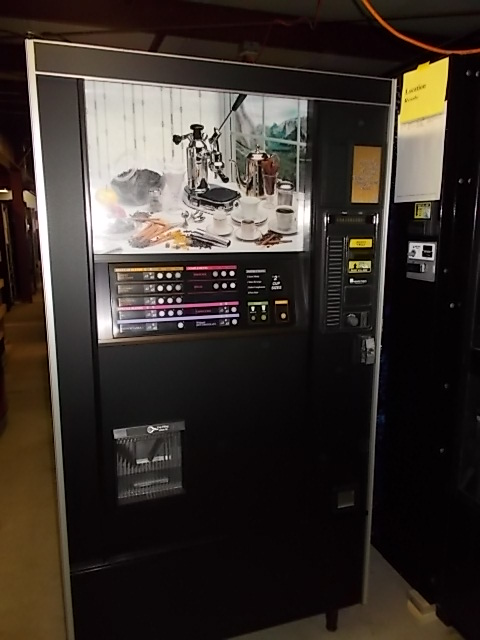 Type: Hot Beverage
Manufacturer: AP, API, Automatic Products Int'l
Model: AP 213, 213G, Hot Beverage Merchandiser
Selections: 7 Hot Beverages In Two Sizes (8 oz & 12 oz)
Freshly Ground Coffee (Coffee Beans)
(In strong, medium or mild strengths)
Decaffeinated Soluble (Freeze Dry)
(In strong, medium or mild strengths)
Café Mocha (Freshly ground coffee & hot chocolate)
(In strong, medium or mild strengths)
French Vanilla (Whipped Soluble)
Cappuccino (Whipped Soluble)
Whipped Hot Chocolate
Tea (Soluble)
(In strong, medium or mild strengths)

Bill Acceptor: Mei VN2501

Coin Changer: Mars TRC6000

Condition: Used Reconditioned, 100% Operational and Ready to Operate

Price: $1,995
NOTES: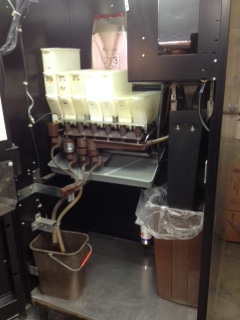 The API 213G Hot Beverage Merchandiser offers 2 cup size pricing and provides flexibility to price each individual hot beverage selection. This 213G has been reconditioned and set up to vend; Freshly ground & brewed coffee in strong-medium or mild strengths for each individual cup, blend chocolate & freshly brewed coffee for Café Mocha also in 3 strengths, 2 soluble whipped gourmet coffee selections (French Vanilla, Cappuccino etc.), Soluble decaf coffee, Soluble tea, Whipped hot chocolate, all in 8oz & 12oz cups with sugar & whitener in 3 strengths.

Our technicians are extremely familiar with the AP213 Dual Cup Hot Beverage Merchandisers and take pride in their work. All aspects of this machine's operation have been serviced, repaired and checked to deliver peak performance.

Automatic Products International. (API) (AP) is now a Crane National Vendors/Crane Merchandising Systems (CMS) brand built in Williston, SC.

Warranty:
A 30 day part warranty is included (All replacement parts to be supplied/obtained from seller, Automated Services LLC, 145 Pepe's Farm Rd Milford, CT 06460. Labor is the responsibility of the buyer.)
FEATURES:

• Attract additional sales with a greater number of selections
• Dynamic New Touch Selection Panel, with strong, medium or mild strength choices for many selections and a choice of two cup sizes on each selection.
• Flexible Pricing - multiple pricing for large & small cups, from product to product, and a Free Vend Feature (No money needed for situations where desired)
• Fixed Filter Base Brewer - the 213 has a 12 oz brewer with a fixed filter base that features fewer moving parts to maximize reliability and minimize service calls
• Easy loading expandable canisters

MODEL SPECIFICATIONS:
* Height: 72"
* Width: 38"
* Depth: 31"
* Selections: 7 Hot Beverages in 8oz and 12oz cup sizes
* Shelves: 1 bean hopper & 7 canisters
* Weight: Shipping Weight 560 lbs
* Electrical 120 Volts, 60Hz, 16Amps
CAPACITY:
* Coffee Beans: 16 lbs.

* Soluble Decaf: 1.5 lbs.
* Soluable Specialty Gourmet Coffees: 4 lbs. ea

* Whitener: 4 lbs.

* Sugar: 8 lbs

* Chocolate: 12 lbs.

* Tea: 1.5 lbs.

* Cups: 590 8 ¼ oz IMP-SRV-0080 cups in large cabinet & 378 in the small cabinet, 552 12 oz IMP-SVS- 0120 squat cups in large cabinet & 352 in the small
CALL TOLL-FREE
(800) 727-8363 Ext. 19

Automated Services, LLC. 145 Pepe's Farm Road, Milford, CT 06460. All rights reserved. 2015