7635

Healthy Snacks Healthy Choices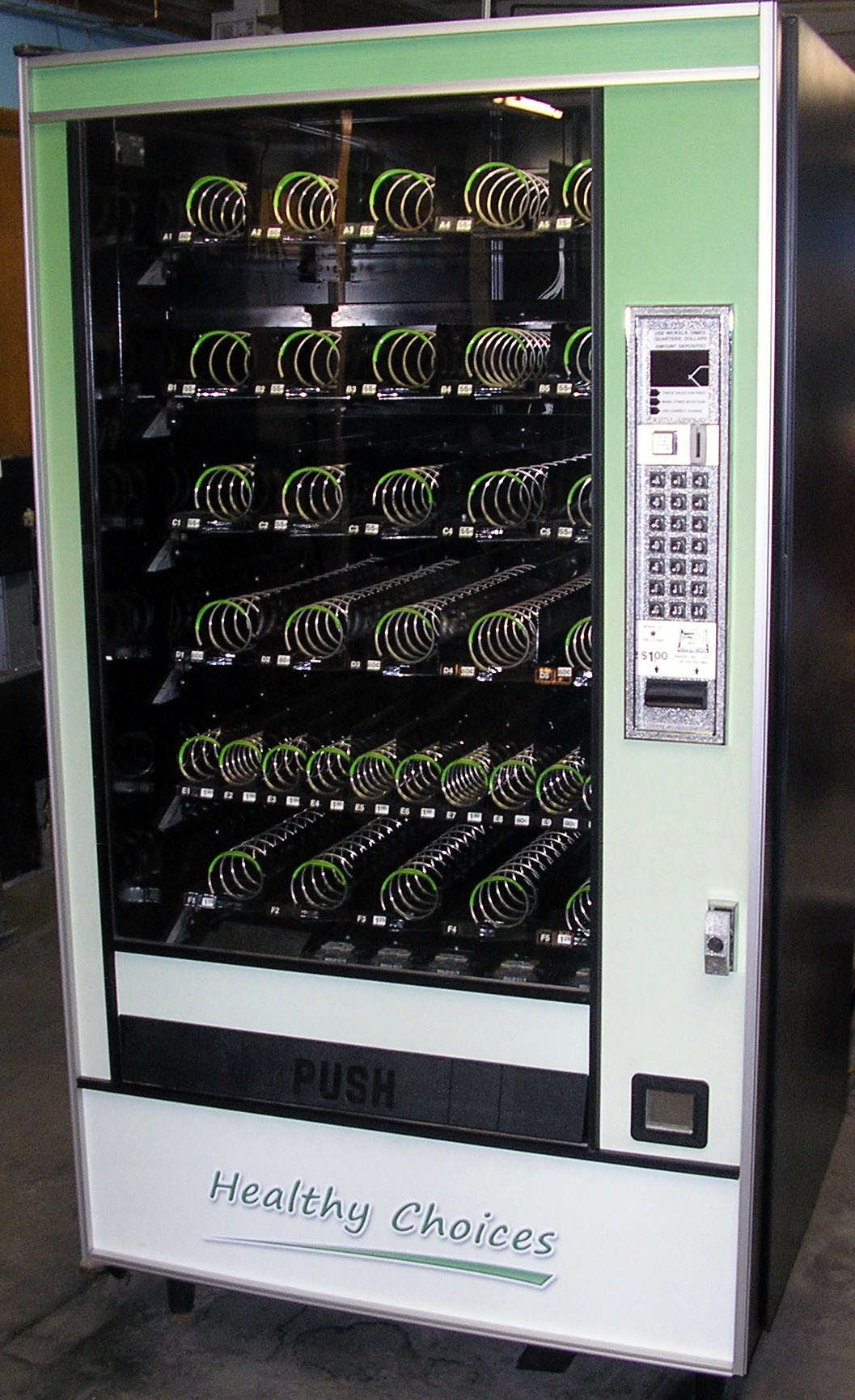 Type:
Glass Front- Healthy Choices
Manufacturer
: Automated Products (AP) (API)
Model:
7635
Selections:
35 plus 5 gum and mint
5 trays @ 5 selecti
ons each (for chips
and pastry-type items with capacities
of 10, 12 or
15 items per)
1 tray @ 10 selections each (for
granola and
candy-type bars with
capacities of 15, 18 or 24 items per)
Bill Acceptor:
Mars MEI VN 2501 $1 (Bills only)
Coin Changer:
Mars TRC6000 (Accepts .5, .10
.25 and $1 coins. Pays-out
with .5, .10 and .25 cent coins)
Condition:
Reconditioned by Automated Service


and
100% Ready to Operate

Price:
$1,275



NOTES: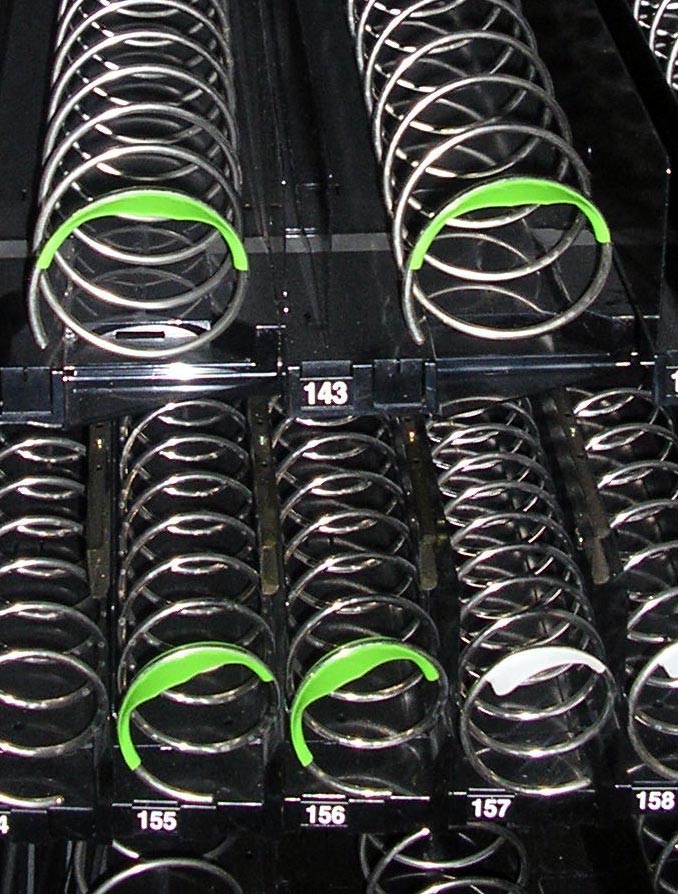 This AP-7635 with our custom Healthy Choices graphics, is a economical solution for today's market. Vending machines promoting healthy snack options have become a high priority with clients, and are an additional source of revenue from healthy minded customers.
Our Healthy Choices machines are highly functional, from their ease of operation to their eye catching graphics. Selections with lower fat, sodium, carbs, and or fewer calories are easily highlighted/featured by our green product pushers (Supplied with each machine and pictured to the right). And with 35 selections operators are able to meet each client's percentage goals for healthy snacks vs the norms, with ample room for core best sellers. Mechanically we address several minor inherent problems with manufacturer-approved procedures and retrofit the dollar bill and coin acceptors with a Mars MEI VN2000/TRC6000 package able to accept and process dollar bills and coins at today's standards.You can expect this machine to be in 100% working order and ready to operate. Replacement parts are readily available and reasonably priced. For additional information,click onto the Specs. and Additional Information link below.
About our Healthy Choices Graphics. We utilize high-grade commercial vinyls. Vertical and horizontal trims (moldings) are removed, each face panel is prepped and the perspective graphics are applied, trims/moldings are replaced as needed.The result is a look that is difficult to distinguish from new with no exposed edges or seams for customers to pick at or peel.
Warranty: A 30 day part warranty is included (All replacement parts to be supplied/obtained from seller, Automated Services LLC, 145 Pepes Farm Rd Milford, CT 06460. Labor is the responsibility of the buyer.)
.
FEATURES:
* MEI coin changers
* MEI bill acceptors
* Over 8 square feet of viewing area!
* Direct pricing option - saves time and money
* Set prices by direct entry, eliminating price incrementing routine.
* Check prices from outside the machine by making selection with no money deposited.
* Timing control eliminates operate mode switch
SPECIFICATIONS
* Height: 72"
* Width: 38 7/8"
* Depth: 35"
* Shelves: Five or six shelves and up to 65 selections.
* Capacity: 310 to 1,261 items.
* Weight: 760 lbs.
* Operation - electric, CSA and UL Listed
* Electrical - 115 volts; 60Hz.
CALL TOLL-FREE
(800) 727-8363 Ext. 19

Automated Services, LLC. 145 Pepe's Farm Road, Milford, CT 06460. All rights reserved. 2017