LCM4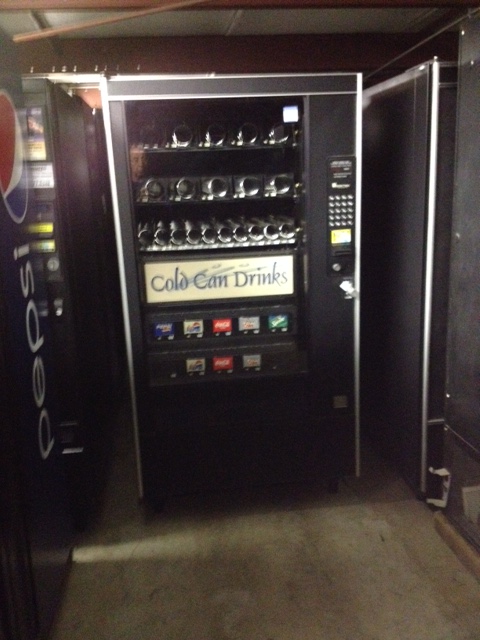 Type: Glass Front Combo
Manufacturer: API, Automatic Products

Crane Merchandising Systems, CMS

Model: LCM4
Selections: 30
2 snack trays @ 5 selections ea.

1 candy tray @ 10 selections ea.

(Total snack/candy capacity approx. 300 items)

10 12-oz cold drink selections

(Total capacity 180 12 oz. cans)
Bill Acceptor: Mei VN2000 ($1.00 bills)
Coin Changer: MDB (3-Tube with 05, .10, and .25 coin acceptance & pay-outs)
Condition: Used, in great shape, close to new and 100% operational
Price: $2,595

NOTES:
This LCM4 Soda-Snack Combo looks close to new and is in 100% working order. It merchandises candy, snacks, pastries and cold drinks (12 oz cans), accepts $1 bills, nickels, dimes quarters and pays change with the same coin denominations. The LCM4's controller board has a MDB (Multi-Drop Bus) port and is able to support sophisticated coin and bill acceptors needed for $5 bill acceptance and credit card systems if need be. This machine may be up graded to accept $5 bills & pay change with the above coin denotations plus dollar coins at an additional $200. For additional information such as capacities, features and specs, click onto to Specs and Additional Information link below.

Automatic Products Inter. (API) (AP) is now a Crane National Vendors/Crane Merchandising Systems (CMS) brand built in Williston, SC.

Warranty:
A 30 day part warranty is included (All replacement parts to be supplied/obtained from seller, Automated Services LLC, 145 Pepe's Farm Rd Milford, CT 06460. Labor is the responsibility of the buyer.)
FEATURES:

Heavy duty sixteen gauge steel cabinet with metal trays / shelves
Nickel chrome-plated spirals
Braille numeric telephone key pad selection system
Operator friendly electronics
Maximizes product capacity
Multi-Drop-Bus port
Eight-point star drive spiral motors
MODEL SPECIFICATIONS:
Height: 72"
Width: 38-7/8"
Depth: 35"

Capacities: 10 selections of 12oz cans @ 18 cans each total cans 180
10 selections of pastries / snacks @ 10, 12 & 15 items each, total approx 120 items
10 selections of candy @ 15, 18, 24 items each, total approx 192 items

Electrical: 15 VAC, 60Hz, 8 AMPS CSA, UL & FCC Listed
Shipping Weight: 730 lbs
CALL TOLL FREE:
(800) 727-8363 Ext 19

Automated Services, LLC. 145 Pepe's Farm Road, Milford, CT 06460. All rights reserved. 2023