COINCO 9341S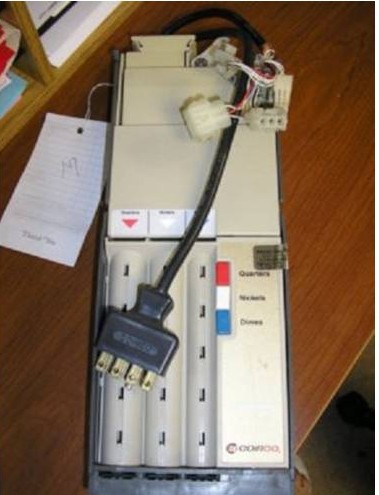 Type: Coin Acceptor
Manufacturer: Coinco
Model: 9341S "CoinPro 3"

Selections: 3 Tube Payout

Condition:
Used, Reconditioned

Price: $95 each
Notes:

This is a Coinco "CoinPro" 9300 Series Changer, Model 9341S coin acceptor in 100% working order. The 9341S is designed for Single-Price Electronomechanical machines with 110v systems and interfaces with all bill most bill acceptors.The vend price is adjustable form $.05 to $12.75. It accepts nickels, dimes, quarters and dollars coins and has 3 coin payout tubes (Nickel, dime & quarter) having a total coin tune capacity of $40.55.

Warranty:
A 30 day warranty is included (All replacement parts/ advance replacements to be supplied/obtained from seller, Automated Services LLC, 145 Pepes Farm Rd Milford, CT 06460. Labor is the responsibility of the buyer.)
SPECIFICATIONS

* 110 volts
FEATURES:
* Reliable 3-tube changer offer enhanced electronics
* Expandable programmable memory for easy updates.
* New coin sensing technology for resistance to counterfeiting and improved resistance to vandalism
* Capacity of $40.55 in nickel, dime and quarter payout.
* On-site field programming high or low quarter inventory maintained automatically
CALL TOLL-FREE:
(800) 727-8363 Ext 19

Automated Services, LLC. 145 Pepe's Farm Road, Milford, CT 06460. All rights reserved. 2015