431 SHOPPERTRON
Type: Cold Food

Manufacturer
: Crane National Vendors, Crane
Merchandising Systems, CMA
Model:
431 Shoppertron
Selections:
9 Shelves (each able to be preset @
6, 12, 18 or 24 items each)
6 count - for 8 in. round plates
12 count - for 4 inch round plates
18 count - for 3.5 inch pie shape
wedges
24 count - for hot dogs or like sizes
Bill Acceptor:
Mars MEI VN 2500 series $1 and $5
Coin Changer:
Mei VN4510 (4 Tube)
Condition:
Used, Reconditioned, & Ready to

Operate
Price:
$2,995
Notes:
New Shoppertrons by API and Crane National Vendors cost $8,000- $8,700 and differ little from this reconditioned 431 Shoppertron, sharing the same number of selections, cabinet size, design, and general appearance.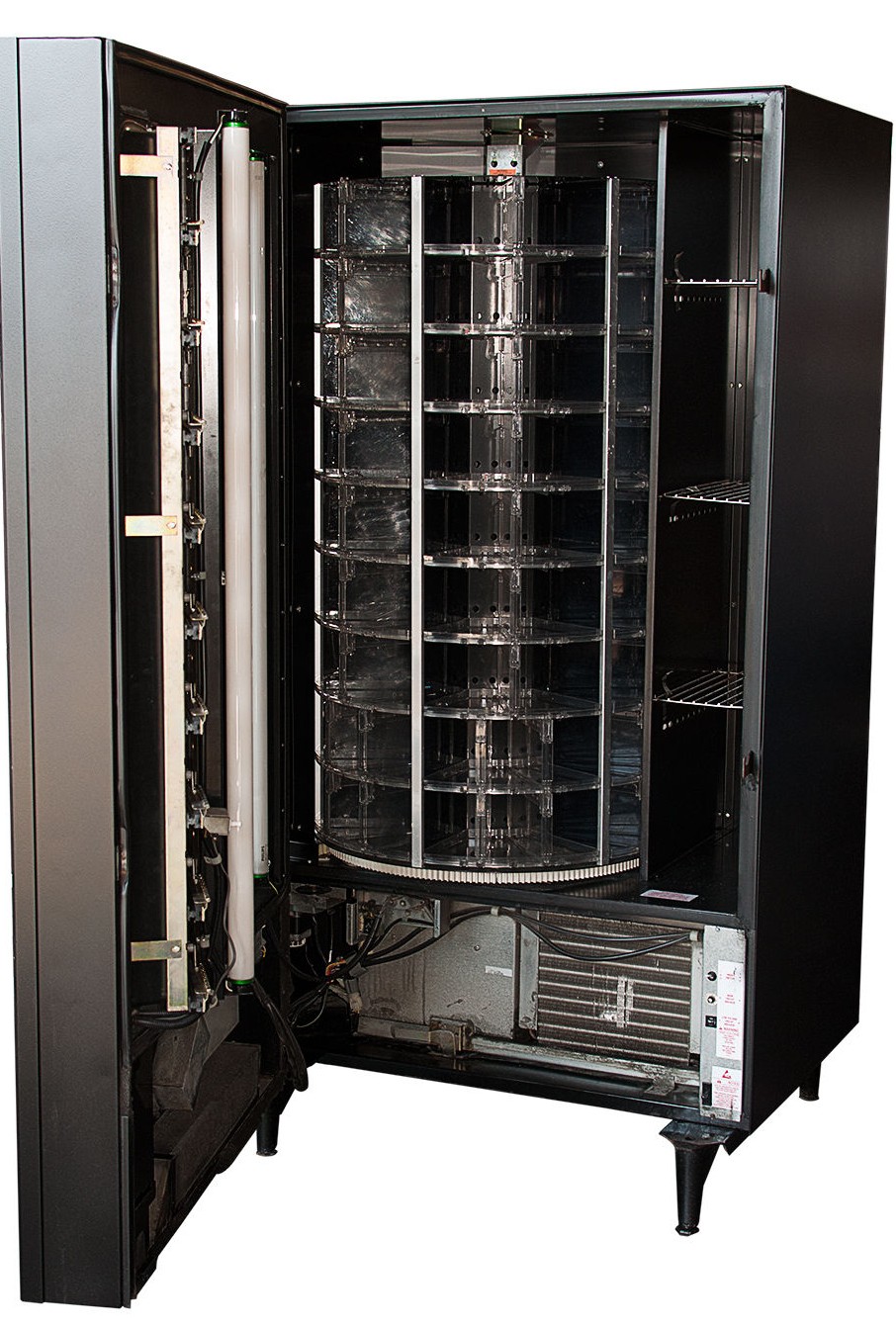 This 431 Shoppertron accepts $1 and $ 5dollar bills, has been reconditioned, refaced with new vinyl and new selection doors have been installed. The result is a look that's crisp with the luster new. In addition, all aspects of this machine's operation have been serviced, repaired and checked to deliver peak performance.

Crane National Vendors/Crane Merchandising Systems (CMS) machines are built in Williston, SC.

Warranty:
A 30 day part warranty is included (All replacement parts to be supplied/obtained from seller, Automated Services LLC, 145 Pepe's Farm Rd Milford, CT 06460. Labor is the responsibility of the buyer.)

FEATURES:
* Full function MDB controller with DEX/UCS compatibility
* Three-section partitioned drum provides excellent merchandising alternatives;
entire drum, 2/3 drum; 1/3 drum.
* Side of drum storage area for extra food & beverages (Inside the cabinet)
* High efficiency, environment friendly, 1/2 HP refrigeration system, with the best air distribution system in
the industry.
* Condensing unit can be easily serviced from the front of the machine
* Health control computer controlled for tamper proof protection.
* Self diagnostics- description appears in plain English on the credit display when the cabinet door is
opened. All failures are stored and shown in the order which they occurred
* Data can be recalled by each tray level and pricing zone ( or entire machine) for both units sold and
dollars received.
* Price the entire machine at one pricing level or use multi pricing to allow up to three different price setting
for each on the nine trays (shelves) levels ( up to 27 different price settings in all ranging from 5 cents to
$99.95

MODEL SPECIFICATIONS:
* Height: 72"
* Width: 38"
* Depth: 31 1/2"
* Food Storage Area:
7"W × 17"D × 50"H
* Capacity:
Standard - 138 items
Minimum - 54 items
Maximum - 216 items
* Weight: 760 lbs.
* Operation - cULus, CE, FCC and NAMA approved
* Electrical - 115 volts; 60Hz; 12 amperes.

CALL TOLL-FREE
(800) 727-8363 Ext. 19

Automated Services, LLC. 145 Pepe's Farm Road, Milford, CT 06460. All rights reserved. 2023