472 Refreshtron 2 Combo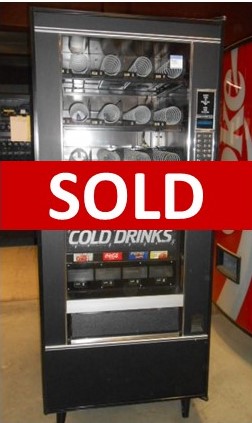 Type
: Combo
Manufacturer:
Crane National Vendors,
Crane Merchandising Systems, CMS
Model: 472 Refreshtron 2
Selections: 24
3 snack trays @ 4 selections ea. with varied capacities of 9-15 items per selection
1 candy tray @ 8 selections ea. with varied capacities of 15-20 items per selection
4 cold drink selections for 12 oz. cans, capacity of 18 cans per selection,

total capacity =72 12 oz. cans
Bill Acceptor:
Mars VN 2501
Coin Changer:
Mars TRC6000

Condition:
Used, upgraded and ready to operate

Price: $1,795
New Lower Price
NOTES:
This 472 Refreshtron 2 (COMBO) is 2 machines in one: a conventional snack machine and a cold drink/soda machine. It merchandises candy, snacks, pastries and cold drinks (12 oz cans), accepts $1 bills, nickels, dimes quarters and pays change with the same coin denominations. Chilled beverages are disbursed from a module within the conventional snack machine. (A miniature refrigerated conventional cold beverage / soda machine). The cold drink module holds 72 12oz cans and offers 4 selections (flavors slots) each having a capacity of 18 cans. Products are easily replenished/loaded from the front of the machine. The 472 Refreshtron 2's are popular with vending operators, well made, and perform well. The original bill acceptors by Maka Corp being the machine's weakest link. We have retrofitted this 472 Refreshtron 2 with the newer Mars MEI VN2000 series bill acceptor brings its ability to accept and process dollar bills to today's standards. Mechanically, we address several minor inherent problems with manufacturer-approved procedures. You can expect this 472 Refreshtron 2 Snack Merchandiser to be in 100% working order.

Crane National Vendors / Crane Merchandising Systems (CMS) Machine are built in Williston, SC.

Warranty:
A 30 day part warranty is included (All replacement parts to be supplied/obtained from seller, Automated Services LLC, 145 Pepe's Farm Rd Milford, CT 06460. Labor is the responsibility of the buyer.)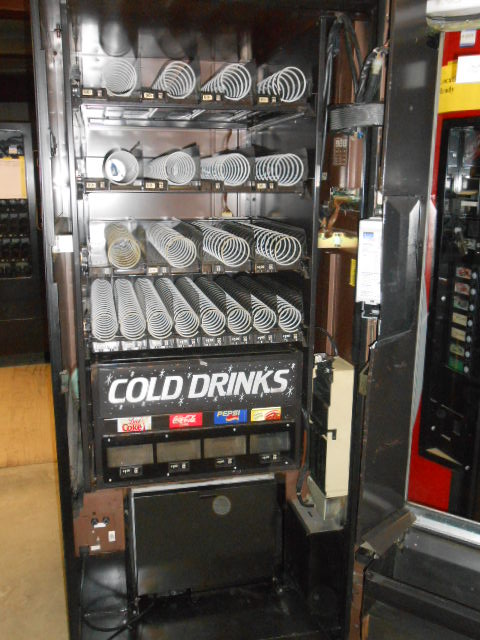 FEATURES:

EASY-TO-READ, LONG-LIFE VACUUM FLUORESCENT ALPHA-NUMERIC DISPLAY--Price set and read from front of machine. Credit display used for price setting, price verification, sales data, self-diagnostics. Every selection can be individually priced. 54" coin insert height complies with ANSI standard.
MICRO-PROCESSOR-CONTROLLED CIRCUITS--Assure smooth efficient operation.
HUGE SELECTION
DISPLAY FLEXIBILITY--Total interchangeability of snack and candy trays without adjustments-- available in 5 or 6 tray configurations. More vertical shelf clearance handles all package sizes. Color-coded, easily removed spirals.
UNIQUE TRAY DESIGN--No wiring harness to disconnect when removing tray--machine will continue to function with tray removed. Top tray display has excellent visibility, and all trays tilt down for lading ease.
INSTALLATION EASE--Unique filter plate design allows passage through 29" door
COORDINATED CABINETS--Compatibility styled for side-by-side banking with other Imperial Crown merchandisers.
MEETS SANITARY REQUIREMENTS--Six inch tubular steel legs meet both U.S. Public Health Service and NAMA sanitary standards.
MODEL SPECIFICATIONS:
Height: 72"
Width: 30"
Depth: 35.5"
Weight: 670 lbs.
Shelves: 4 (1 candy@ 8 selections each, 3 pastry/snack @ 4 selections each)
4 12 oz. can cold beverage selections with a capacity of 18 cans each
Capacities: Approx. 120 candy items, 150 snack items and 72 12 oz cans.
Operation - Electric, UL listed, C.S.A.certified, FCC verified, AMA approved
Electrical - 115 volts; 60Hz; 5 amperes.
CALL TOLL FREE:(800) 727-8363 Ext 19
Automated Services, LLC. 145 Pepe's Farm Road, Milford, CT 06460. All rights reserved. 2018