474 Glass Front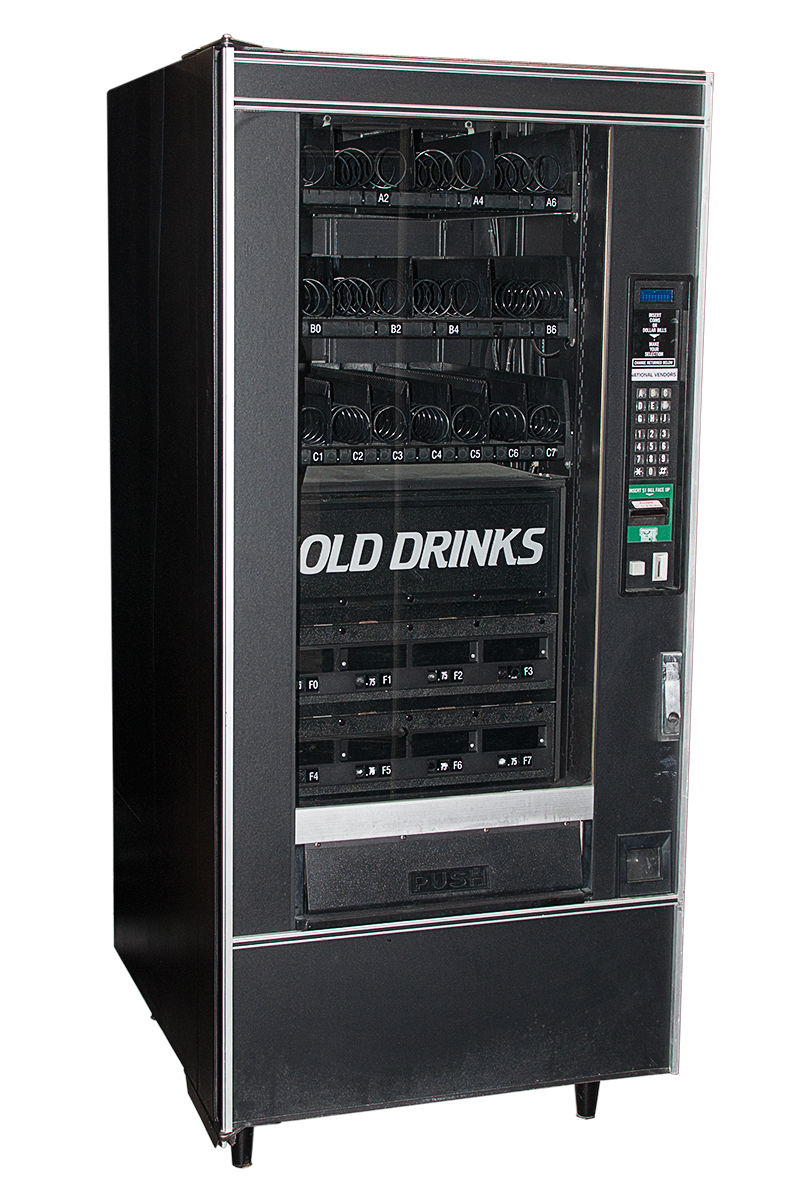 Type: Glass Front Combo
Manufacturer: Crane National Vendors,
Crane Merchandising Systems, CMS

Model: 474 Refreshment Center 2, Combo, Snack & Soda Combo
Serial No.: 12024

Selections: 24 plus 4 gum and mint
2 snack trays @ 4 selections ea. with varied capacities of 9-15 items per selection

1 candy tray @ 8 selections ea. with varied capacities of 15-20 items per selection
8 cold drink selections for 12 oz. cans, capacity of 18 cans per selection, total capacity 144 12 oz. cans

4 gum and mint selections
Bill Acceptor: Mars VN2501
Coin Changer: Mars TRC6000
Condition: Excellent and Ready to Operate in 100% working order
Price: $2,695

NOTES:

This 474 Refreshment Center 2 (COMBO) is 2 machines in one: a conventional snack machine and a cold drink/soda machine. Chilled beverages are disbursed from a module within the conventional snack machine. (A miniature refrigerated conventional cold beverage / soda machine). The cold drink module holds 144 12oz cans and offers 8 selections (flavors slots) each having a capacity of 18 cans. Products are easily replenished/loaded from the front of the machine.

The Crane National Vendors (CMS) 474 Refreshment Centers are popular within the vending trade because they perform well, and with dual spiral (coil) snack selections seldom fail to deliver product. Candy selections can be easily converted to snack selections by electronically coupling 2 candy selections to run simultaneously (No tools required). It's an option that really helps tailor the machine's configuration to the location's needs.

Mechanically, we address several minor inherent problems with manufacturer-approved procedures. You can expect this 484 Refreshment Center to be in 100% working order.

Crane National Vendors / Crane Merchandising Systems (CMS) Machine are built in Williston, SC.

Warranty: A 30 day part warranty is included (All replacement parts to be supplied/obtained from seller, Automated Services LLC, 145 Pepes Farm Rd Milford, CT 06460. Labor is the responsibility of the buyer.)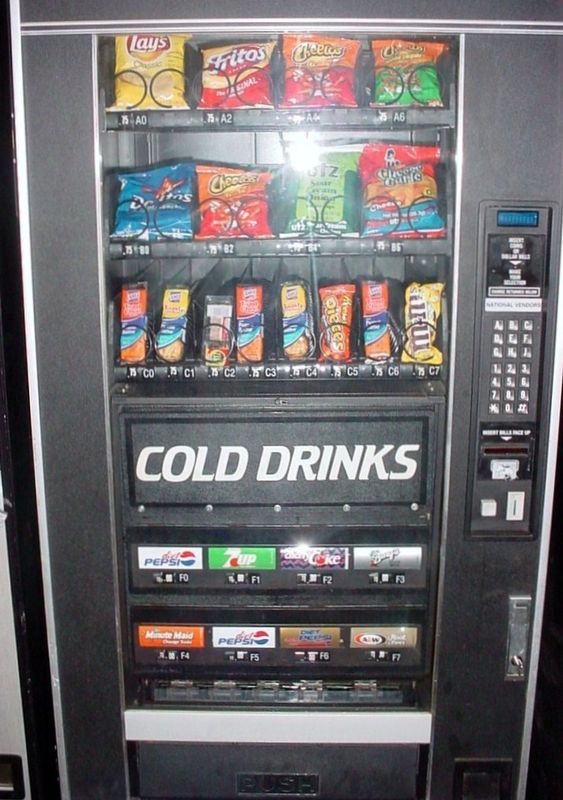 FEATURES:

MERCHANDISING FLEXIBILITY- Sell candy and snacks on the same shelf. Motors couple easily and divider slide out to convert to either candy or snack.

EASY LOADING- Each shelf tilts forward at 45 degrees, making it easy to reach even the upper shelves.

CONTINUOUS PRICE ROLLS-Just dial up the correct price. No more little price tabs that fall out, get lost, or are hard to find.

ADVANCED ELECTRONICS-Multiple pricing and data recall (by selection, tray, or machine); self-diagnostics; time and date capabilities; winner mode (1:10 to 1:9,999); discount mode; inhibit mode; and, custom messages.

CONSUMER FRIENDLY -The alpha numeric keypad makes choosing a product easy for consumers. The large buttons and bold lettering make it simpler to use than other systems.
MODEL SPECIFICATIONS:
Height: 72"
Width: 32"

Depth: 35.38"

Weight: 665 lbs.

Operation - Electric, UL listed, C.S.A.certified, FCC verified, NAMA approved

Electrical - 115 volts; 60Hz; 5 amperes.
CALL TOLL FREE:
(800) 727-8363 Ext 19

Automated Services, LLC. 145 Pepe's Farm Road, Milford, CT 06460. All rights reserved. 2016