CRANE 673 HOT DRINK CENTER 2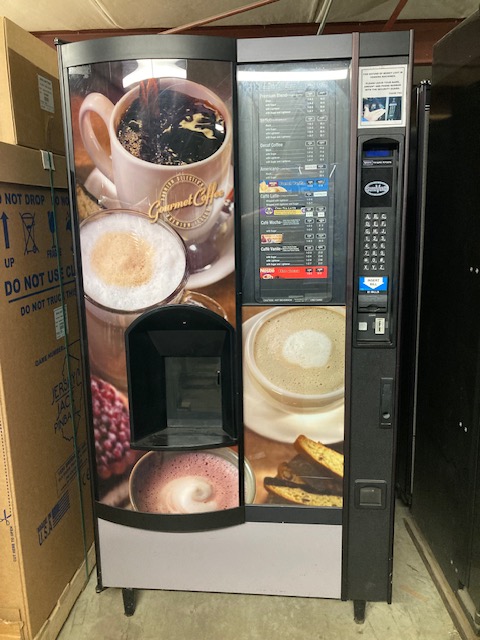 Type: Hot Beverage
Manufacturer: Crane Merchandising Systems, CPI, National
Model: 673 Hot Drink Center 2

Selections: 8 : 12oz or 16oz servings, with variations for strength, lightener & sugar for freshly brewed coffees:
1: Freshly Brewed Coffee (Premium Blends)
2: Freshly Brewed Coffee (Breakfast Blends or Decaf)
3: Caffe Latte (Freshly Brewed Coffee with Whipped Lightener)
4: Caffe Mocha (Freshly Brewed coffee Blended with Hot Chocolate and Lightener
5: Americano (A small serving of extra strong Freshly Brewed Coffee)
6&7: 2 Whipped Flavored Gourmet Coffee Canisters (French Vanilla, Etc)
8: Hot Chocolate Whipped

Bill Acceptor: Mei VN2501 ($1's only)
Coin Changer: Mei /Coinco 3 tube
Condition: Used, Excellent & Ready to Operate
Price: $3,485 (Includes 3-tube coin changer & $1 bill acceptor)
Additional options: $1&5 bill acceptor + $100., 4-tube coin changer+$75., installation of customer supplied credit card / inventory control systems by USA Tech/Cantaloupe or NAYAX + $150.

NOTES:

This 673 Hot Drink Center 2 is in great condition and 100% working order. Customers can easily find select their favorite hot beverages, prepared just as they like in 12oz & 16 oz sizing. Its controller board is MDB, able to support sophisticated coin and bill acceptors and credit card systems, if need be.

Crane National Vendors / Crane Merchandising Systems, CPI, Machines are built in Williston, SC.

Warranty: A 30 day part warranty is included (All replacement parts to be supplied/obtained from seller, Automated Services LLC, 145 Pepe's Farm Rd Milford, CT 06460. Labor is the responsibility of the buyer.)

FEATURES:
MERCHANDISING FLEXIBILITY: Helps grow sales with coffee house blends, and increased price points.

EASY LOADING: premium coffees, specialty hot beverages, cups, sugar, and whitener all conveniently located and easy to access/service
.
CONSUMER FRIENDLY SELECTION INTERFACE: The alpha number keypad makes choosing products easy for customers. The large buttons and bold lettering make it simpler to use than other systems.


MODEL SPECIFICATIONS: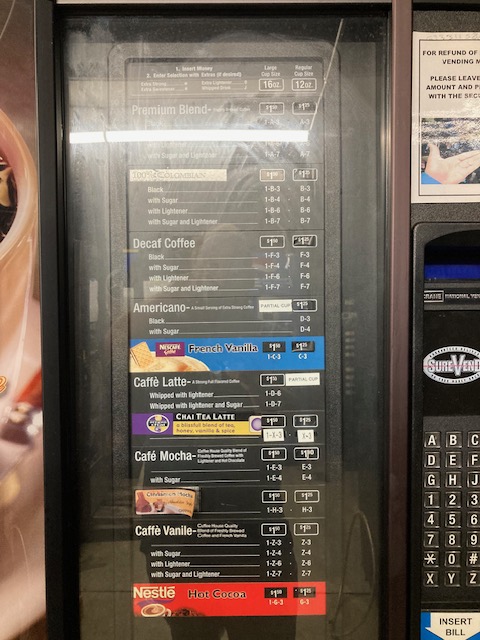 * Height: 72"

*
Width: 38.13"
* Shipping Weight: 570 lbs.
*
Shelves: 6 shelves.
*
Capacity: ----
Approximately 600-12oz cups or 380-16oz cups, Dry products, Coffee Canisters 13 lbs, Freeze Dried Decaf 2 lbs, Flavored Gourmet canisters 6 lbs, Hot Chocolate 10 lbs, Sugar 11 lbs, Lightener 4.5 lbs,.
*
Operation - Electrical 115V, 60Hz, 16A, (20 amp circuit required)

*
Listings cULus, CE, FCC, NAMA,

CALL TOLL-FREE:
(800) 727-8363 Ext 19

Automated Services, LLC. 145 Pepe's Farm Road, Milford, CT 06460. All rights reserved. 2023