673 Hot Drink Center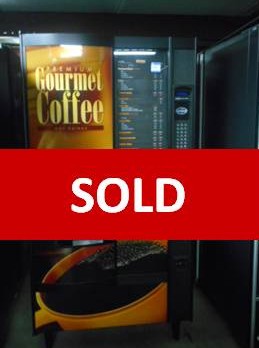 Type: Hot Beverage
Manufacturer: Crane National Vendors
Model: 673, Hot Drink Center 2

Selections: 11 selections plus variations, in 12 oz. or 16 oz. servings, and on freshly brewed selections extra strong, extra lightener and extra sugar options.
- Premium Blend: Freshly brewed coffee:12 oz or16oz

Black
With sugar
With lightener
With sugar and lightener
- Coffee: Freshly brewed coffee:12 oz. or 16 oz
Black
With sugar
With lightener
With sugar and lightener
- French Vanilla: 12 oz. or 16 oz.
- Americano: A small serving of extra strong coffee

Black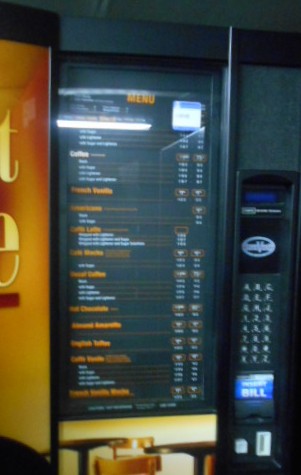 With sugar
- Caffe Latte: A strong full flavored coffee: 12 oz. or 16 oz.
Whipped with lightener
Whipped with lightener and sugar
- Caffe Mocha: A coffee house quality blend of freshly brewed coffee with lightener and hot chocolate:12 oz or 16 oz
- Decaf Coffee: 12 oz. or 16 oz.
Black
With sugar
With lightener
With sugar and lightener
- Hot Chocolate: Whipped 12 oz. or 16 oz.
- Cappuccino: 12 oz. or 16 oz.

- Caffe Vanilla: A coffee house blend of fresh brewed coffee & French vanilla: 12 oz. or 16 oz.
Black
With sugar
With lightener
With sugar and lightener
- Caffe Vanilla Mocha: A coffee house blend French Vanilla and hot chocolate: 12 oz. or 16 oz.
Bill Acceptor: Yes - $1 and $5
Coin Changer: Yes - $.05, $.10, $.25, and $1.

Coin acceptance and payouts
Condition: Used. In great condition. Close to new and 100% operational

Price: $2,995 NEW LOWER PRICE
NOTES: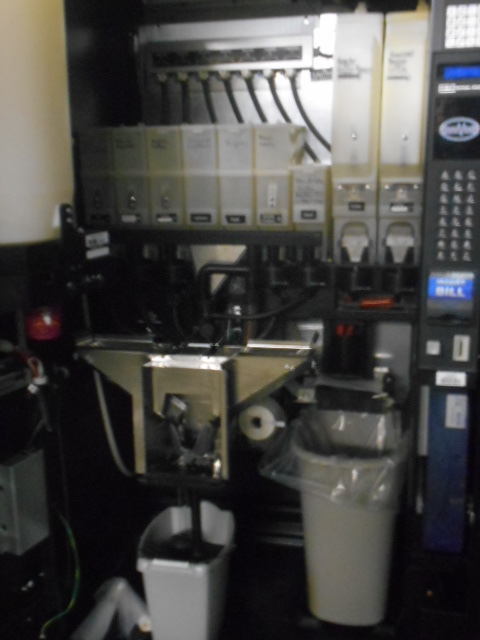 This Crane / National 673 Hot Drink Center 2 is in great condition, close to new in look and in 100% working order. Customers can easily find and select their favorite hot beverages prepared just as they like, in 12oz or 16oz sizing, by way of the menu on the face of the machine (which is outlined above under Selections). This machine is set up to accept $1 & $5 bills, nickels, dimes quarters and $1 coins and able to pay change with the same coin denominations. This machine also has Sure Vend, infrared technology detects whether the cup has dropped, guaranteeing customers either receive their product, or get their money back.
Warranty: A 30 day part warranty is included (All replacement parts to be supplied/obtained from seller, Automated Services LLC, 145 Pepe's Farm Rd Milford, CT 06460. Labor is the responsibility of the buyer.)


CAPACITIES:
Cups (approximate)
600-12oz
380-16oz
Dry Product
Coffee canister - 13 lbs beans
Decaf canister – 2 lbs freeze dried coffee
Flavored gourmet coffees – 6 lbs
Chocolate – 10 lbs
Freeze dried coffee – 2 lbs
Sugar – 11 lbs
Lightener – 4.5 lbs

FEATURES:
*

Freshly brews a premium brand of coffee and specialty

beverages from a conveniently located

vending machine.
*

Help grow sales with increased demand and higher

price points.
*

Includes a wide range of premium offerings.
*

SureVend guaranteed delivery system
*

Electronically programmed


MODEL SPECIFICATIONS:

* Height: 72"

*
Width: 38.13"
*
Depth: 33.75"
*

Electrical: 115 VAC, 60Hz, 16A (20 circuit required)

*

Shipping Weight: 570 lbs

*

Listings: ULus, CE, FCC, NAMA
CALL TOLL-FREE:
(800) 727-8363 Ext 19
Automated Services, LLC. 145 Pepe's Farm Road, Milford, CT 06460. All rights reserved. 2019