180 Merchant 4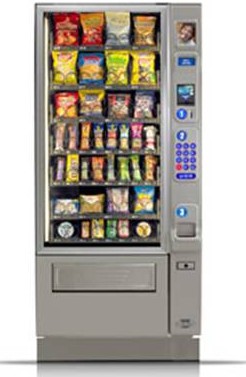 Type: Glass Front
Manufacturer: Crane National Vendors,
Crane Merchandising Systems, CMS
Model: 180 Merchant 4

Selections: 38
5 snack trays @ 4 selections ea.

2 candy trays @ 1 @ 8 selections and 1 @ 6 candy and 2 gum/mint

1 tray @ 4 snack

Total Capacity: Approximately 500 items

Bill Acceptor: Crane NRI BV $1-$20
Coin Changer: Crane NRI (4 Tube)
Condition: New. Left Over Stock, Never Used, 100% Operational and Ready to Operate
Price: $3,195 NEW LOWER PRICE
NOTES:

We have a brand new Crane National Vendors Merchant 4 180 snack machine, purchased new in May 2011 and stored in our environmentally controlled warehouse. It is equipped with these value enhancing options, Crane NRI 4 tube coin changer & $1 - $20 bill acceptor, a seventh product tray, LED lighting, individual product pricing rolls and 2 gum/mint half cycle motor selections. The Merchant 4 is unique in several ways: its capacity & number of selections for a 32.5" wide machine nearly matches most full size machines at 38"-39" wide, cabinet "knock-outs" allow access through 30" doorways, its new era styling, large glass, dynamic keypad, and LED illumination all distance the Merchant 4 from the competition in this machine category.

Crane National Vendors / Crane Merchandising Systems (CMS) machines are built in Williston, SC.

Warranty: A 30 day part warranty is included (All replacement parts to be supplied/obtained from seller, Automated Services LLC, 145 Pepe's Farm Rd Milford, CT 06460. Labor is the responsibility of the buyer.)
FEATURES:

• Attract additional sales with a greater number of selections
• Reduce route labor without sacrificing sales
• Dynamic keypad, Touch sensing technology, Large lighted keys
• 1-2-3 Process (money, selection, change) facilitates experience
• New OK key confirms selection
• Graphics display simplifies communication
• All mechanical systems tested to 14 years of life
• Significantly less parts, improves simplicity and reliability (delivery bin, tray harnesses, keypad…)
• Cabinet "knock-outs" allow access through 30" doorways
• Increased vertical space when compared to previous model for more or taller products
• Shelf height can be adjusted in ½" increments for ultimate flexibility
• Easy loading shelves with no latches
• LED light
• Improved SureVend guarantees product delivery

MODEL SPECIFICATIONS:
Height: 72"
Width: 32.8"

Depth: 37.8"
Selections: 50

Shelves: 7 Trays

Capacity: Approximately 500 items (depending on spiral counts

Shipping Weight: 510 lbs.

Operation - Electric, cULus, CE, FCC and NAMA Listed

Electrical - 115 volts; 60Hz; 3 amperes.
CALL TOLL FREE:
(800) 727-8363 Ext 19


Automated Services, LLC. 145 Pepe's Farm Road, Milford, CT 06460. All rights reserved. 2016