180 Merchant 4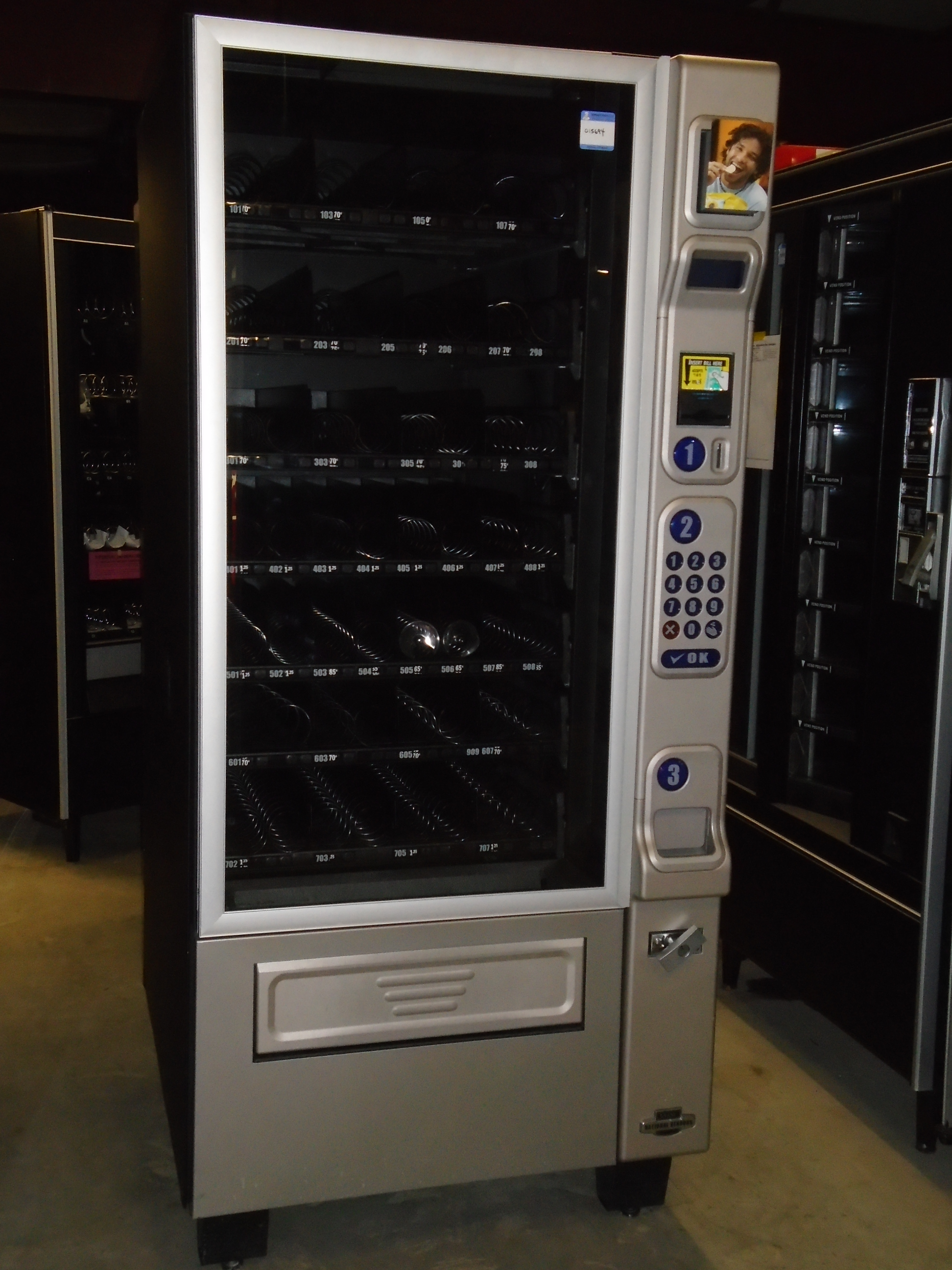 Type: Glassfront
Manufacturer: Crane National Vendors,
Crane Merchandising Systems, CMS
Model: 180 Merchant 4

Selections: 38

5 snack trays @ 4 selections ea.

2 candy trays; 1 with 8 selections
and 1 with 6 candy and 2 gum/mint selections
1 Snack Tray with 4-6 selections
Total Capacity: Approx. 500 items
Bill Acceptor: MEI VN2512 (Accepts $1 and $5 bills)
Coin Changer: MEI 4 tube
Condition: Used, Excellent, Close to New in Look. 100% operational and made ready for location by Automated Services, LLC
Price: $3,195

Notes:

We have several Crane National Vendors Merchant 4 180 snack machines. All were purchased new between April 2010 and May 2011, and operated by Automated Services. The condition of each machine is very close to new, each thoroughly cleaned, tested and stored in our environmentally-controlled warehouse. The Merchant 4 is unique in several was: its capacity and number of selections for a 32.5" wide machine nearly matches most full size machines at 38"-39" wide, cabinet "knock-outs" allow access through 30" doorways, its new era styling, large glass, dynamic keypad and LED illumination all distance the Merchant 4 from its competition.
Each is equipped with these value enhancing options: Mei CF7000 coin changer / VN2500 series $1 & $5 bill acceptor; a seventh product tray; LED lighting; individual product pricing rolls; 2-4 gum/mint half cycle motor selections and tray 400 (The 4th tray down) equipped with 8 vend motors. (With 8 motors on tray 400 any snack selection may be reconfigured to be 2 candy selections or back to snack for greater flexibility.) The same holds true for tray 500 where 8vend motors are standard.
Crane National Vendors / Crane Merchandising Systems (CMS) Machine are built in Williston, SC.

Warranty: A 30 day part warranty is included (All replacement parts to be supplied/obtained from seller, Automated Services LLC, 145 Pepe's Farm Rd Milford, CT 06460. Labor is the responsibility of the buyer.)
FEATURES: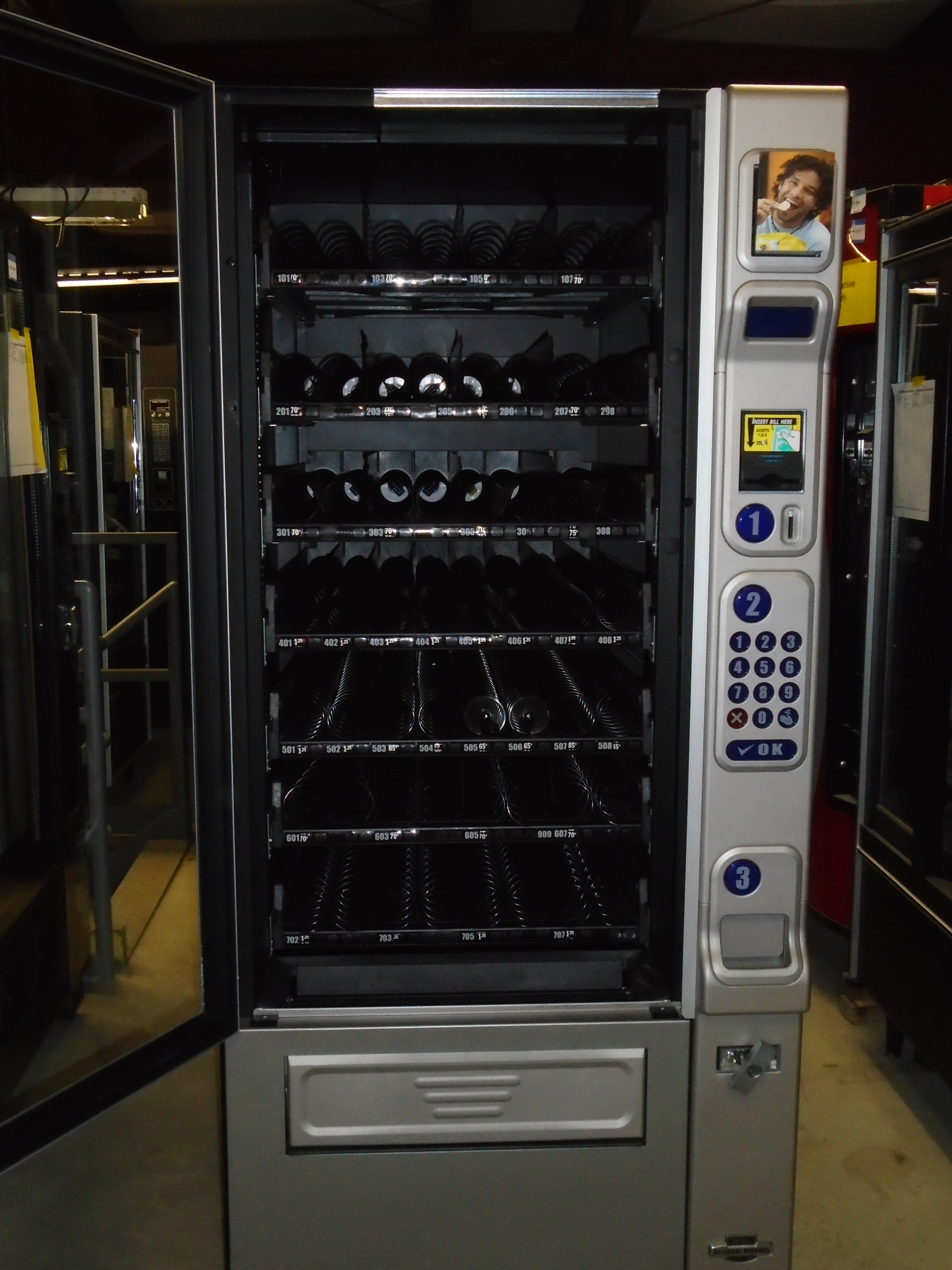 • Attract additional sales with a greater number of selections
• Reduce route labor without sacrificing sales
• Dynamic keypad, Touch sensing technology, Large lighted keys
• 1-2-3 Process (money, selection, change) facilitatesexperience
• New OK key confirms selection
• Graphics display simplifies communication
• All mechanical systems tested to 14 years of life
• Significantly less parts, improves simplicity and reliability (delivery bin, tray harnesses, keypad)
• Cabinet "knock-outs" allow access through 30" doorways
• Increased vertical space when compared to previous model for more or taller products
• Shelf height can be adjusted in ½" increments for ultimate flexibility
• Easy loading shelves with no latches
• LED light
• Improved SureVend guarantees product delivery
MODEL SPECIFICATIONS:
Height: 72"
Width: 32.8"

Depth: 37.8"
Selections:38

Shelves: 7 Trays

Capacity: Approximately 500 items (depending on spiral counts

Shipping Weight: 510 lbs.

Operation - Electric, cULus, CE, FCC and NAMA Listed

Electrical - 115 volts; 60Hz; 3 amperes.
CALL TOLL FREE:(800) 727-8363 Ext 19

Automated Services, LLC. 145 Pepe'Farm Road, Milford, CT 06460. All rights reserved. 2017