3800-4 BEVMAX Narrow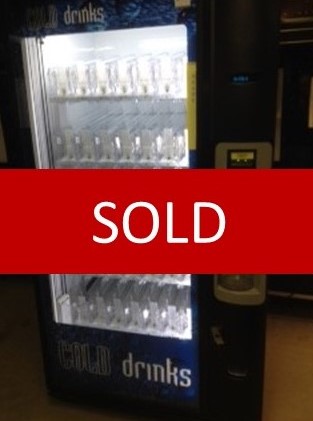 Type: Cold Drink Machine

Manufacturer
: Crane National Vendors, CMS
Model:
3800-4 BEVMAX Narrow
Selections:
35
5 Trays @ 7 selections each,

8 drinks per selection

Total capacity: 245 drinks
Bill Acceptor:
Mei 2512 accepting $1 and $5 bills
Coin Changer:
Mars/MEI4510 (4-tube)
Condition:
Used, Very Good.



100% operational and made

ready
for location by
Automated Services LLC
Price: $3,795
NOTES:
This Dixie Narco BEVMAX model DN3800-4 (Narrow) is in 100% working order, has a excellent appearance and accepts both $1.& $5. bills. The Dixie Narco BevMax (DN-3800-4) is the most advanced glass front soda vending machine available. Most glass front systems allow vended beverages to freefall into the delivery bin. The DN 3800-4 Bevmax Narrow has a robotic system that retrieves each beverage from its shelf location and delivers it to a delivery station, limiting product foaming and potential product damage. DN3800's are operator and user friendly, accommodate extensive product package variations without shims or mechanical adjustments, reliable and replacement parts are readily available. Dixie Narco is a major manufacturer of vending machines for Coca-Cola , Pepsi & etc. and is located in Williston, SC.


Warranty: A 30 day part warranty is included (All replacement parts to be supplied/obtained from seller, Automated Services LLC, 145 Pepe's Farm Rd Milford, CT 06460. Labor is the responsibility of the buyer.)
FEATURES:
SIMPLIFIED MAINTENANCE: Low profile modular refrigeration platform removes from the front of the machine.
EFFICIENCY: A shimless vend mechanism addresses costly labor and service concerns. Eliminate loading errors. Bottles remain in firmly in place even if the machine is rocked.
SPEED: Delivers product in 8-seconds
RELIABILITY: Proven by independent lab tests of 20,000 operation vends; 80,000 vend like-cycles and comprehensive field testing exceeding 238,000 vends.
MODEL SPECIFICATIONS:

* Height: 72"
* Width: 39"

* Depth: 32"

*
Shipping Weight: approx. 700 lbs.
*

Selections: 45
* Shelves: 5 trays
* Capacity: 245
* Operation - Electric, CSA and UL listed
* Electrical - 115 VAC, 60Hz, 10.2 amps, MDB Level 3 controller

*

Refrigeration 134A gas, 1/3 HP

*

Certifications: UL, CUL,CE, FCC, NOM, CTICK



CALL TOLL-FREE
(800) 727-8363 Ext. 19


Automated Services, LLC. 145 Pepe's Farm Road, Milford, CT 06460. All rights reserved. 2022