DN 168, 168-99-5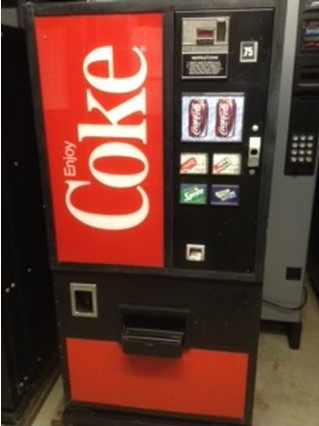 Type: Cold Drink Machine

Manufacturer
: Dixie Narco

Model: DN 168-99-5, DN 168


Selections:

5




3 Double Depth Columns




(36 12 oz. cans each)



3 Double Depth Single Columns
(20 12 oz. cans each)
Total Capacity = 168 12 oz cans

Bill Acceptor:
No
Coin Changer:
Mars or Coinco with 3 coin tube
payout system
Condition:
Used, Good
and 100%


operational and made ready for

location by Automated
Services
Price:
$1,295
NOTES:
This 1982 Dixie Narco DN 168-99-5 Coke Cold Drink/Soda machine is in 100% working order, accepts quarters, dimes and nickels, pays change in the same denominations and vends 12 oz cans. It may also be set to vend Coke 7-8 oz. glass bottles. Dixie Narco built these machines specifically to Coca-Cola's specifications for Coca-Cola bottlers, with red cabinets, white trim, one over sized selection button at 6 ½ x 5 inches and 5 selections. The oversize selection button actually operates two wide columns within the machine to create a highly visible, high capacity Coke selection. At just 56" high, 28" wide and "26" deep, it's a machine that could be easily utilized in a home or small office application without over powering a space.
It shows normal wear but is in good shape as you can see from the picture . Dixie Narco is a major manufacturer of vending machines for Coca-Cola , Pepsi & etc. and is located in Williston, SC.
Warranty:
A 30 day part warranty is included (All replacement parts to be supplied/obtained from seller, Automated Services LLC, 145 Pepe's Farm Rd Milford, CT 06460. Labor is the responsibility of the buyer.)
FEATURES: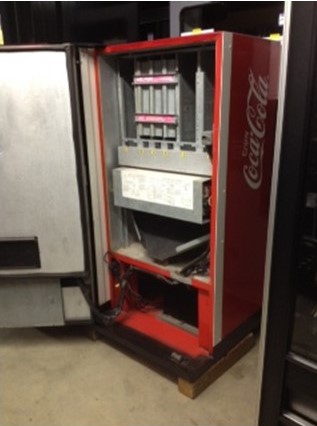 Double Depth --- 12 oz. Can High Capacity (or 10oz PLBs)
Extremely simple vend mechanism --- accessible from the front, operating mechanism for each stack/column can be replaced on location by removing 4 screws.
Refrigeration system --- complete sealed refrigeration unit and control are easily reached from the front of the cabinet: oversized evaporator cools rapidly.
Foamed - in - place --- insulation greater cabinet strength with increased damage resistance, lighter weight, higher insulation efficiency and more vending capacity for a given floor area is provided by polyurethane foamed – in – place insulation.
Reinforced Base --- assembly provides greater structural strength and a sold foundation against damage from moving the vender or the use on casters. Holes provided in base to fasten vender to floor.
Double Security Door --- two rugged, reinforced doors eliminate joint cracks on front cabinet to discourage vandals. The interior of the door is designed with a structurally reinforced security vault, which contains the coin changer and coin box. Accessory lock holds doors together, allowing product loading only.
Corrosion Resistance --- top, sides and all external parts of cabinet and door are made of galvanized steel, especially designed to resist ocean spray.
Vandal Panels --- deter vandalism , 12 gauge galvanized steel panels riveted to cabinet wall and bolted to door side, conceal gasket joint; easily replaced on location, to restore new look if vandals strike.
Lockout System --one plug-in relay--perites operation of remaining columns, even if one column is inoperative.
"Sold-out" lamp lights on inoperative column
Medallion --- is of tough, impact resistant Lexan material.
Safety --- all internal edges are hemmed and corners capped to reduce product damage or injury to employees.
All Components are serviceable from the front of the Machine Lockout System

MODEL SPECIFICATIONS:

* Height: 56"
* Width: 28"
* Depth: 26"

*

Selections: 5
* Shelves:3 Double columns & 3 Single Columns
* Shelve Capacity: 3 (36 -12oz cans) & 3 (20 - 12 oz. cans)
* Total capacity: 168 12 oz. cans
* Weight: 465 lbs;
* Electrical - 120V-(110V): 60Hz: 12 amperes.



CALL TOLL-FREE
(800) 727-8363 Ext. 19
Automated Services, LLC. 145 Pepe's Farm Road, Milford, CT 06460. All rights reserved. 2021