276E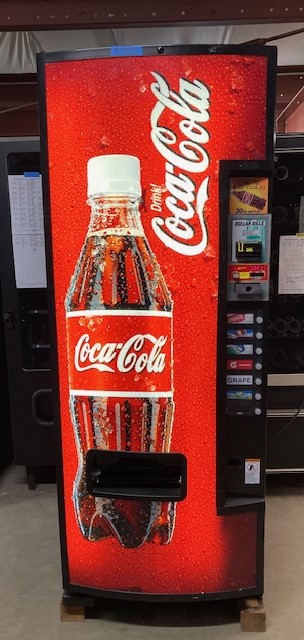 Type: Cold Drink
Manufacturer
: Dixie Narco DN Crane
Model:
DN 276E S11-7, DN 276E
Selections:
7
7 Columns each with a capacity of
48 cans or 28 16/20 oz Bottles
(Total possible 12 oz can capacity
336, total possible 16/20 bottle
capacity 196)
Bill Acceptor:
Mei VN2000 ($1 and $5)
Coin Changer:
Mei 4510 (4 tube)
Condition:
Used, Excellent & Ready to

Operate
Price:
$2,195
NOTES:

The Dixie Narco 276E models were specially designed to vend 20 oz. & 16 oz. plastic pet bottles in double-depth high capacity columns, with a large package delivery ports for Coke, Pepsi and other major bottlers. At 28 inches wide and 33 inches deep, it is Dixie's smallest entry in this category. The E models also vend 12oz cans in high capacity triple depth columns and 16oz cans of the same diameter in double depth columns. Each selection is relatively easy to set for bottles or cans, however cans and bottles require different shims kits & vend motor settings. We will preset each selection to your needs for the above packaging at no extra charge.
Dixie's S11 ELECTRONIC control board with system diagnostics & system set-up/audit functions, allows each selection to be individually priced, supports (Multi Drop Bus) related products such as 4 & 5 tube coin acceptors and credit card acceptance systems. This Dixie Narco 276E-RS11-7 accepts $1 and $5 bills, nickels, dimes, and quarters, pays change in the same coin denominations, and is in 100% operating condition. Its overall appearance is excellent, pleasing to the eye with a hint of the luster of new still reaming. The 276E models are well known for their dependability and ease of service. Replacement parts are readily available at reasonable prices as both new and used.
Dixie Narco is a major manufacturer of vending machines for Coca-Cola , Pepsi & etc. and is located in Williston, SC.
Warranty:
A 30 day part warranty is included. (All replacement parts to be supplied/obtained from seller, Automated Services LLC, 145 Pepe's Farm Rd Milford, CT 06460. Labor is the responsibility of the buyer.)
FEATURES:

* Double-Depth High Capacity 16/20 oz. bottle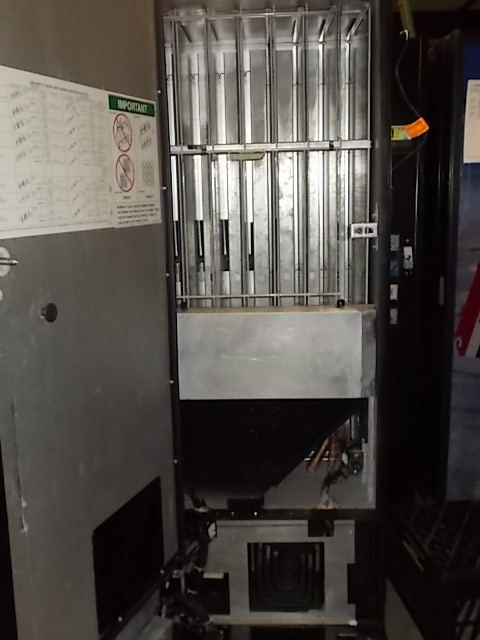 vending 12 oz. cans @ Triple)
* Large Package Delivery Port (to accommodate


20 oz. bottles)
* Simple Field Conversion (for different

packages)
* Multi-Pricing Capability.
* Historical and Interval Accounting Data.
* DEX and MDB Compatible
* Automatic Service

Diagnostics.
* CFC-Free, Lint Tolerant, 1/3 HP Refrigeration

System
* UL/COL outdoor approved
MODEL SPECIFICATIONS:
* Height: 72"
* Width: 28"
* Depth: 34.75"
* Shelves: 7 columns
* Capacity: 336 12 oz. cans or 196 16/20 oz bottles
* Weight: 687 lbs
* Operation - electric, CSA and UL listed
* Electrical - 120 volts: 60Hz: 11 1/2 amperes.


CALL TOLL-FREE
(800) 727-8363 Ext. 19


Automated Services, LLC. 145 Pepe's Farm Road, Milford, CT 06460. All rights reserved. 2023