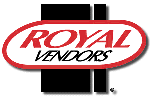 282 SP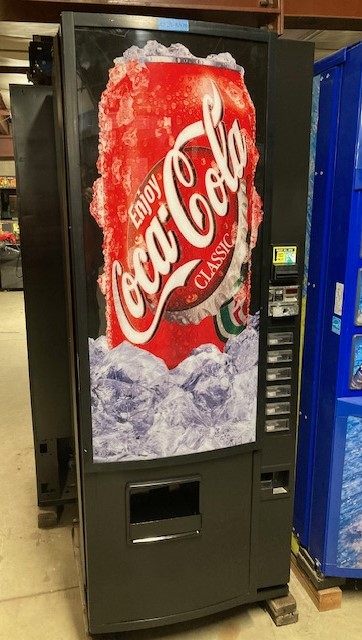 Type: Cold Drink
Manufacturer: Royal, Royal Vendors

Model: 282, 282-6, RVCD
Selections: 6 Selections

Columns 1-3 ea. have a capacity of 62 cans
Columns 4-6 ea. have a capacity of 32 cans
Total: 282 Cans
Bill Acceptor: Mei VN2000 Series $1
Coin Changer: Mars TRC 6800h 3 Tube
Condition: Used. Excellent

100% Operational
Price: $ 999 .95

NOTES:

This Royal 282 accepts $1.bills, nickels, dimes, quarters, pays change with the same coin denotations and was designed to vend 12oz cans. Its in 100% working order, the illuminated face is free of cracks and deep scratches, surface scratches are unavoidable in these plastic/lexan displays however when illuminated most all light scratches and minor imperfections disappear. The areas near and including the selections buttons, the coin-insert and bill acceptor will be scratch and graffiti-free. Royal is the #1 manufacturer for Coca-Cola Coke machines. The Royal factory is located in West Virginia. Replacement parts are readily available and reasonably priced.
Automated Services LLC Warranty: A 30 day part warranty is included (All replacement parts to be supplied/obtained from seller, Automated Services LLC, 145 Pepe's Farm Rd Milford, CT 06460. Labor is the responsibility of the buyer.)

* Digital display of price, credit, and sold out.
MODEL SPECIFICATIONS:
* Height: 72"
* Width: 28"
*
Depth: 29-1/2"
* Shelves: 6 columns
*
Capacity:



Columns 1-3 ea. have capacity of 62 cans


Columns 4-6 ea. have a capacity of 32 cans.


Total

of 282 cans.
* Operation - Electric, NAMA,I and UL-C Listed

* Electrical -
120 volts; 60Hz; 12 amperes
CALL TOLL-FREE
(800) 727-8363, Ext. 19




Automated Services, LLC. 145 Pepe's Farm Road, Milford, CT 06460. All rights reserved. 2023