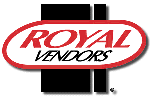 Royal 552 RVCDE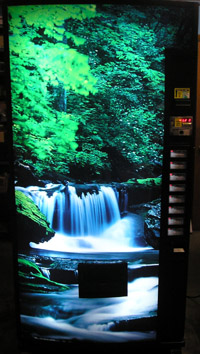 Type: Cold Drink
Manufacturer: Royal Vendors

Model: 552 RVCDE
Selections: 8 Selections

Columns 1-4 ea. have a capacity of 90 12 oz. cans
Columns 5-8 ea. have a capacity of 48 12 oz. cans
Total: 552 Cans
Bill Acceptor: Mei/Mars ($1 only)
Coin Changer: Mei/Mars (3-tube)
.05, .10 and .25 cent payouts
Condition: Good to Excellent and Ready to Operate

Price:
$1,195
NOTES:

Royal's "Merlin" electronic control board made its models superior to the others manufactured by Dixie Narco and Vendo within the same time frame. With its "Guaranteed Delivery System" a sensor detects the beverage as it is delivered, if a beverage is not delivered, customers are enabled to try another selection or be refunded. Dixie Narco and Vendo models will simply keep a customer's money and provide no beverage, generating service calls and customer refunds. Also, the manner in which the Royal design dispenses product is less likely to jam. (Product jams are normally due to damaged product containers and loading errors) Jams happen now and then but less often in the Royal models. This Royal vends 12 oz cans, accepts $1 bills, nickels, dimes, quarters, and pays change in the same coin denominations.
Royal is the #1 manufacturer for Coca-Cola Coke machines. The Royal factory is located in WV. Replacement parts are readily available and reasonably priced.
FEATURES:
* Multi-pricing-each selection from $0.00 to $99.99.
* Digital display of price, credit, and sold out.
* 2 second product delivery guaranteed
* 24 Volt control system.
* Full escrow of deposit until vend-with "dumb" coin changer.
MODEL SPECIFICATIONS
:
* Height: 72"
* Width: 37"
* Depth: 33"
* Shelves: 8
* Capacity : 8 Columns, columns 1-4 having a capacity of 90 12 oz. Cans each, and columns 5-8
having a capacity of 48 cans each. Total Capacity 552 12oz cans
* Weight: 760 lbs. .
* Electrical - 120 volts; 60Hz; 12 amperes
CALL TOLL-FREE
(800) 727-8363, Ext. 19




Automated Services, LLC. 145 Pepe's Farm Road, Milford, CT 06460. All rights reserved. 2023