USI 3129 Glassfront Snack Machine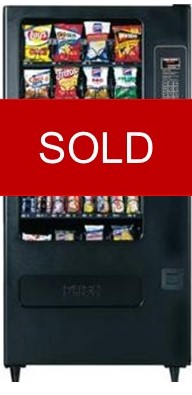 Type: Glassfront Snack Machine
Manufacturer: Fawn, FSI, Federal, Selectiv and, U-Select-I
Corp, USI, Wittern
Model: 3129, Similar to the HR32, m4000, Merchant 4000 & Mercato 4000
Selections: 32
4 Trays @ 4 selections each with dual 10 count augers/coils/spirals (for chips, pastries & other bagged items, etc.)
2 Trays @ 8 Selections each with 8-18 count, 6-15 count & 2-15 count 1/2 cycle coils/spirals (for candies, granola bars, cookies, crackers, pastries, etc. with gum & mints in the 2 1/2 cycle coil/spiral selections
Total Capacity: 454 items
Bill Acceptor: Coinco Mag32SA (Accepts $1 bills)
Coin Changer: Coinco Coin Pro 9302GX (Accepts .05, .10, .25 coins)
(Pays-out with .5, .10 & .25 cent coins)
Condition: Used machine in excellent condition. 100% Operational & made ready for location
Price: $1,695

NOTES:
This USI Model 3129 Glass Front Merchandiser- Snack Machine is comparable/similar to the HR32, M4000, Merchant 4000 and the Mercato 4000 models which are all branded models built by this manufacturer. It's flexible enough to dispense a wide variety of snacks: chips, pretzels, pastries, candies, chocolates, cookies, crackers granola types, etc. It has dual augers/coils/spirals on 16 of its snack selections which make for a more positive vend and generally handle the greater array of product packaging available in today's market.

This machine is equipped with i-Vend, a guaranteed delivery system ensuring product delivery vended products are detected by a info-red sensor as they drop into the delivery bin. Customers
are able to make another selection or receive a refund in the event their selection does not drop. This machine, although used, is in 100% working order and close to new in appearance,

Fawn, FSI, Federal, Selectivend, Servomatic U-Select-It, USI, Wittern are all brand names manufactured by The Wittern Group in Des Moines, IA . Although branded differently, and having model numbers that differ the machines offered by each brand are almost identical, with perhaps the greatest difference being how they are marketed, i.e. through price clubs (Sams Club) etc, vending machine distributors, and direct sales to small business, health care facilities and etc. Replacement parts for these brands are readily available through Vend-Net www.vendnetusa.com

Warranty: A 30 day part warranty is included (All replacement parts to be supplied/obtained from seller, Automated Services LLC, 145 Pepe's Farm Rd Milford, CT 06460. Labor is the responsibility of the buyer.)

MODEL SPECIFICATIONS:
Height: 72"
Width: 35.16"
Depth: 35"

Shelves: 6 Trays
Weight: 520 lbs
Capacity: Approx. 454 items
Electrical - 115 volts/60Hz 1.2 amp

CALL TOLL FREE:
(800) 727-8363 Ext 19

Automated Services, LLC. 145 Pepe's Farm Road, Milford, CT 06460. All rights reserved. 2018