USI 3160 7 Tray Glass Front Snack Machine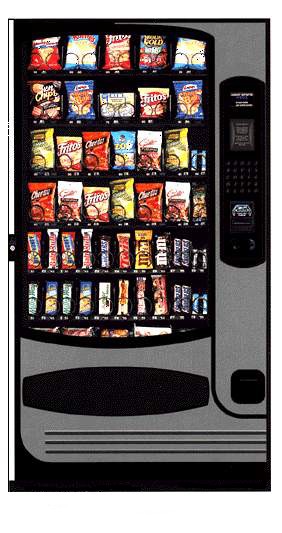 Type
:
Glass Front
Manufacturer:
FSI, U-Select-It, USI, Wittern

Model:
3160, 5700

Serial No.: 111986001234

Selections: 47

1 tray @ 7 selections each for

snack/pastry

(single coils)

4 trays @ 5 selections each for snack/pastry
(all dual coils)

2 trays @ 12 selections each for candy
Total capacity approx. 480 items
Bill Acceptor: Yes (Accepts $1 bills)
Coin Changer: Coinco 9302GX (Accepts .05, .10, .25)
(Pays out with .05, .10, .25 coins)
Condition: Used, Good
100% Operational and made ready for location by Automated Services LLC
Price:

$1,495
NOTES:
This USI model 3160 snack machine, is currently set up to accept $1 bills, nickels, dimes, quarters, and pay change in the same coin denominations and may be upgraded to accept both $1's $ 5's for a additional $200. . It is equipped with iVend, USI's guaranteed delivery system allowing customers to make another selection or receive a refund in the event their selection does not drop. It has one of the largest merchandising windows, and is flexible enough to dispense a wide variety of snacks: chips, pretzels, pastries, candies, chocolates, cookies, crackers granola types, etc. Its controller board is MDB ready (able to support credit card systems if need be. This 3160 is in good condition, and is in 100% working order.

FSI, Federal, Selectivend, U-Select-It, USI, and Wittern are all brand names manufactured by The Wittern Group in Des Moines, IA . Although branded differently, and having model numbers that differ the machines offered by each brand are almost identical with perhaps the greatest difference being how they are marketed, through price clubs (Sam's Club) etc, vending machine distributors, and direct sales to small business, health care facilities etc. Replacement parts for these brands are readily available through Vend-Net www.vendnetusa.com

Warranty:
This machine is backed by a 30 day part guarantee. (All replacement parts to be supplied/obtained from seller, Automated Services LLC, 145 Pepe's Farm Rd Milford, CT 06460. Labor is the responsibility of the buyer.)
FEATURES:
• Large merchandising window
• Individual selection pricing from $0.00 to $99.95 in nickel increments
• Adjustable Helixes (Spirals) 360 – degree helixes adjust in 20 degree increments
• Hard wire tray connector with easy release
• MDB Payment System Ready Includes coin, bill and card reader acceptance

MODEL SPECIFICATIONS:
Height: 72"
Width: 41"
Depth:35.75"

Shelves: 7 trays
Weight: Approx. 650 lbs
Capacity: Approx. 480 items
Electrical - 115 volts/60Hz 1.2 amp

CALL TOLL FREE:
(800) 727-8363 Ext 19

Automated Services, LLC. 145 Pepe's Farm Road, Milford, CT 06460. All rights reserved. 2019